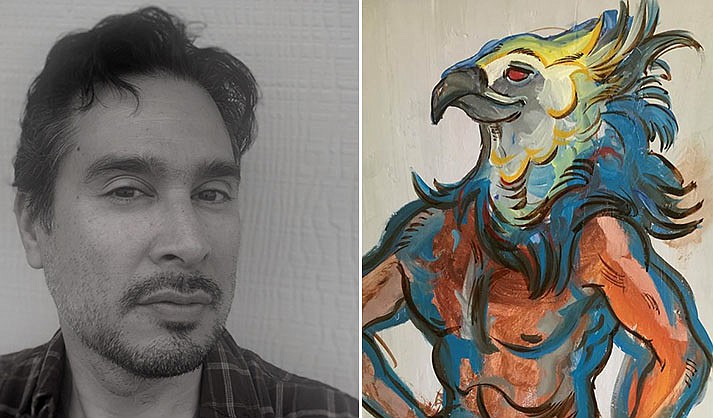 ---
---
As Leo Beltran considered hanging his show at the Sedona Center, he commented, "Throughout my years as a production artist for the entertainment industry, I've found that imagination and draftsmanship skills are never obsolete. "
His show, which reflects his philosophy, can be viewed at the Yavapai College Sedona Center, 4215 Arts Village Drive, through mid- Feb., from 9 a.m. to 5 p.m. weekdays.

Beltran is an optimist whose dream is to educate and inspire others to learn art. His own father, an architect, was his original inspiration.

"I just thought that he was living the dream working on drawings eight hours a day," he said.
Doing storyboards and trailers were part of his job while he worked for several Hollywood studios including Dream Works, Nokia, Avaya, Summit Entertainment and Imagi Studios. He, his wife and three children eventually made their way to India, where they opened Dr. Beltran's School of Animation and Visual Wonder. They settled in Bangalore, India, where they have a studio and a school. The Beltrans created an online program when COVID-19 caused the closure of the school. They plan to reopen the school in May.
Beltran bequeaths his legacy of educating others in art and animation to his children. It is his wish to "pay it forward" with the intention that others will reciprocate.

Life is inspiration to Beltran. "Drawn to life, my illustrations always show the whimsical and magical side of this wonderful world," he said.

View his magical depiction of life as inspiration from January through the middle of February at OLLI, and find inspiration in his visual communication.
Sedona Center artists are facilitators who teach for OLLI (Osher Lifelong Learning Institute) at Yavapai College and/or for Community Education at Yavapai College. For more information, call 928-649-4270 or email OLLIsv@yc.edu.
Information provided by Yavapai College Sedona Center.