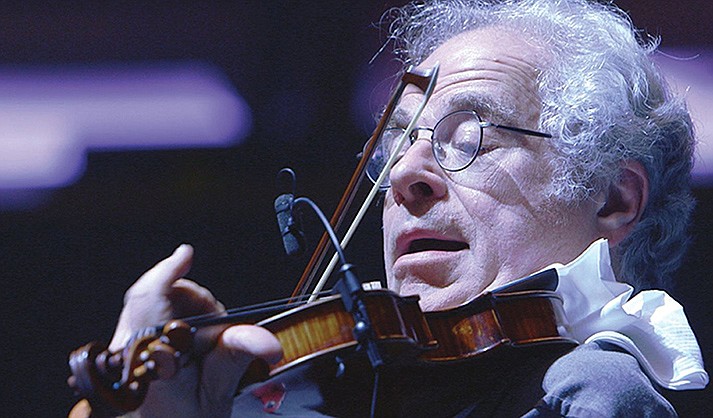 ---
---
The Sedona International Film Festival is proud to partner with Chamber Music Sedona for a special encore of 'Itzhak' in celebration of the Chamber Music Season on Friday, Jan. 27 at 4 p.m. at the Mary D. Fisher Theatre.
From Schubert to Strauss, Bach to Brahms, Mozart to Billy Joel, Itzhak Perlman's violin playing transcends mere performance to evoke the celebrations and struggles of real life; "praying with the violin," says renowned Tel Aviv violinmaker Amnon Weinstein.
Alison Chernick's enchanting documentary 'Itzhak' looks beyond the sublime musician, to see the polio survivor whose parents emigrated from Poland to Israel, the young man who struggled to be taken seriously as a music student when schools saw only his disability.
As charming and entrancing as the famous violinist himself, 'Itzhak' is a portrait of musical virtuosity seamlessly enclosed in warmth, humor, and above all, love.
Tickets are $12, or $9 for Film Festival members. For tickets and more information, please call 928-282-1177 or visit SedonaFilmFestival.org. Both the theatre and film festival office are located at 2030 W. Hwy. 89A, in West Sedona.
This special screening of 'Itzhak' will be preceded by an encore showing of the short film "Thin Walls" by Chamber Music Sedona's Artistic Director Nick Canellakis. His film debuted at the Sedona International Film Festival to rave reviews. In 'Thin Walls,' an aspiring novelist moves into a new apartment, only to find her next-door neighbor is an obsessive cellist who practices all day long. Canellakis will be on hand to host the films and take us behind the scenes of his short film. This screening and collaboration between Chamber Music Sedona and the Sedona International Film Festival is made possible by a grant from the City of Sedona. For more information about the Chamber Music Sedona season, please visit ChamberMusicSedona.org.