Lake Montezuma jack-of-all-trades celebrates 90th birthday

Originally Published: January 29, 2023 12:23 a.m.
BEAVER CREEK – Meet Kimzey Watkins, a Navy veteran, a former Arizona Public Service foreman, hunter, fisherman, jack-of-all-trades man, who just celebrated his 90th birthday.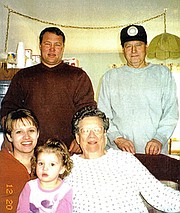 Watkins was born in Phoenix at 16th Street and Osborn Road on Jan. 16, 1933. He was one of six children.
When he was just 6 years old, Watkins began working on his grandparents' farms milking cows and picking cotton. By the time he was 16, Watkins dropped out of school to help support his family financially.
In 1952, Watkins entered the Navy reserves for the next four years, also fighting in the Korean War.
"I was there for nine straight months. We bombed them every day," Watkins said. "I was a quarter-master signalman."
After serving, Watkins began working for APS as a foreman before being struck by lightning while on his work truck. Watkins suffered a broken knee and later underwent three surgeries.
APS wouldn't hire him back after his injury, which is when retirement began.
Watkins says he doesn't keep in contact with anyone from either job anymore, bringing a humorous answer as to why.
"I've outlived them all," Watkins said with a laugh. "I'm the last one around."
Watkins and his wife, Patricia, have been married for 68 years and counting. When asked what he wanted for his birthday, Watkins responded with, "All I wanted for my birthday is sitting right here. I want my wife."
Watkins was under the impression that his birthday celebration on Saturday, Jan. 28 at Low Places Bar and Grill was a small get-together of grandchildren and his children. However, Watkins' daughter, Kathilynn, planned a surprise party for many months.
"My son is coming with his wife from North Carolina, my father's oldest sister's daughter and son are coming from California, and everyone else is coming from all over Arizona," says Kathilynn on Monday. "My sister has three grandkids and my brother has 13 grandkids that should be coming, too."
In addition to the surprise of family coming from all over the states, everyone wrote a story on their favorite memory with Watkins that he took home to read, Kathilynn put together a picture board, and her sister Cindy is putting together a quilt with pictures all over.
"He thinks we are just going over there for lunch. He doesn't know there will be that many people there for him," says Kathilynn on Monday. "We're all excited to celebrate him."
Contact Paige Daniels at pdaniels@verdenews.com or 928-634-2241, ext. 6033.
---
-
SUBMIT FEEDBACK
Click Below to: