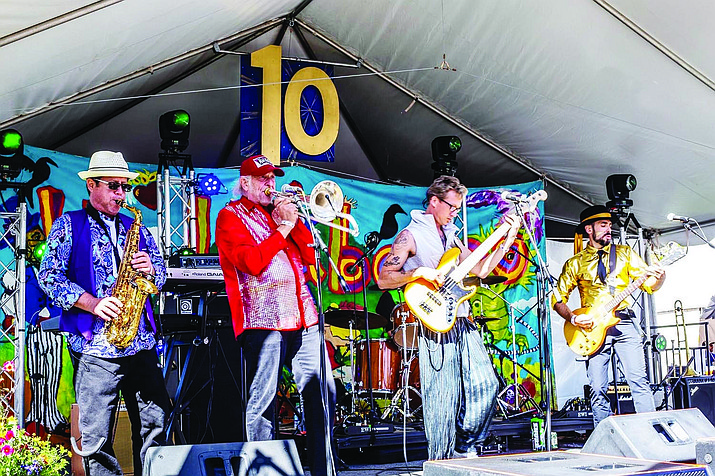 ---
---
Jerome is the place to be this weekend to start the season in style at the first ever Jerome Music & Arts Festival. The whole town will be involved in presenting two full days of music and art and fun, on Saturday and Sunday, June 10th and 11th, with performers in 10 different locations beginning at 11:00 a.m. And it's all free!
Over 40 musical acts will be performing. And artists will be painting in a special area in Spook Hall and in the upper park, as well as in many open art studios and galleries all over town. Look for craft vendors, a kids area with special activities in the upper park, food trucks, and, of course, take this opportunity to explore the many unique specialty shops in Jerome, where the whole town is a National Historic Landmark.
There are no chain stores here. Special maps will be provided to make it easy to find everything. It's all presented by the Jerome Chamber of Commerce, with help from many sponsors, including the Rickeldoris Candy & Popcorn Co., with a shop designed to bring out the kid in all of us, Vino Zona, presenting curated Arizona wine tastings, and Sip Sedona, when you're ready for a tour of the Verde Valley Wine Trail.
Other sponsors include Passion Cellars, Coronado Vineyards, Cornish Pasty Co., Puscifer the Store, and The Spirit Room.
In addition to the usual parking throughout town, free parking will be provided in the large parking lot above the fire station above town and in the large parking lot at the old Jerome High School below town.
Free shuttle service will be provided to and from each lot.
Musical performances will be offered outdoors in the upper park, and on the Cornish Pasty patio, and outside the House of Joy, the Turquoise Spider, and S.T.O. Productionz, and indoors at Spook Hall, the Spirit Room, Coronado Vineyards, the Jerome Artists Co-op, and the old Jerome High School.
For a complete schedule of the participating performers, including the time and location of every performance, please visit the Jerome Chamber of Commerce's special festival website at: www.JeromeMusicandArts.com.