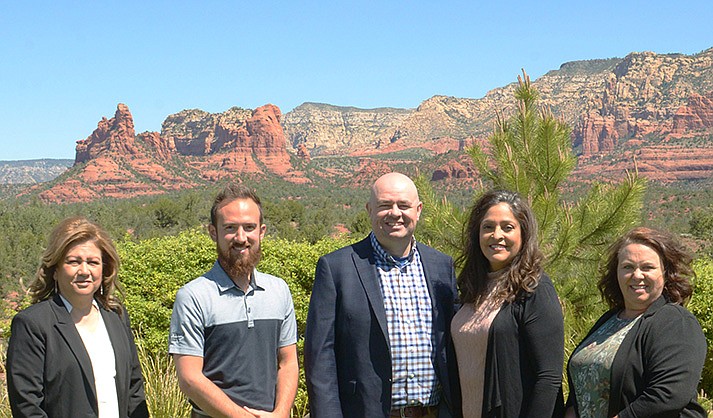 ---
---
Mark Tufte was originally enrolled in school to become a career counselor to help others find direction in their lives. But once he accepted a job as a bank teller while he was still attending school, his own life path changed in ways he never expected.
Tufte grew up in a military family and spent his childhood travelling the world. He was born at Fort Huachuca in southern Arizona but his father's military career took them to places like Germany, Italy and Belgium. Eventually, upon his dad's retirement, he landed back in Arizona and has since called the state his home. He lives in Clarkdale now and has been in the Verde Valley for 16 years.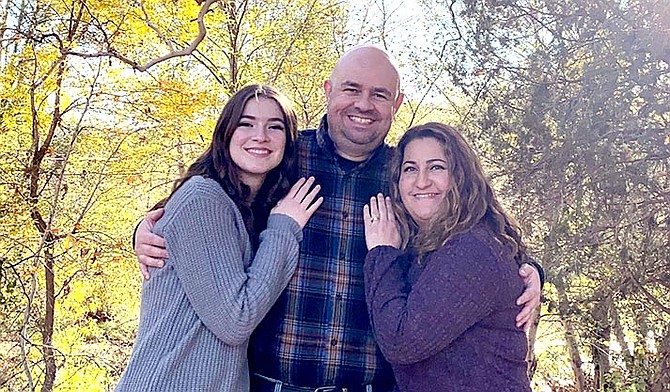 While still attending school to become a career counselor, Tufte applied for a job as a teller at a Wells Fargo branch. "I wanted to explore helping others," he said. The banking world began to take hold of Tufte's interest and he got another job at a Stockman's Bank. His manager there asked him what his goals were in the banking industry. "I guess I want to be you one day," was Tufte's response. "That manager was key to my future success," Tufte said. "He helped me change my program at school and there it was." Tufte now has more than 20 years of experience in the industry and just over a year ago helped open the new Sedona branch of Pinnacle Bank.
"I have found great satisfaction in the banking world," said Tufte. "I like having the opportunity to make a difference in our customers' lives and being able to help my community. I believe people should always look for chances to get involved."
Tufte's desire to help his community extends far beyond his position at Pinnacle Bank. "I serve on several local boards because I want to be able to be a benefit to my community in more than one way." Tufte serves with the Cottonwood Chamber of Commerce, is a member of the Rotary Club of the Verde Valley and serves with the Happy Futures Foundation, an organization that provides micro-loans to teachers in the Cottonwood Oak Creek School District. He also works with the Verde Valley Regional Economic Organization's Revolving Loan Fund.
"This organization helps to provide gap funding for borrowers who don't fit in the typical bank lending box," Tufte said. "It gives me the opportunity to expand my own mind and work with people I might not otherwise be able to work with under regular bank policies."
Where does Tufte find the time to fit it all in? "If you want something done," Tufte said with a laugh, "ask a busy person."
Tufte feels fortunate to have had a lot of positive people in his life. "My parents always made sure I had what I needed," he said. And he'll never forget the bank manager who helped him change the course of his future. "He helped me figure out my school program, sent me to trainings, and even helped me buy my first house."
When Tufte finds free time, he enjoys spending it with his wife, Hande and their 17-year-old daughter, Selin.
"We do our best to raise our kids," Tufte said, "but we end up learning from them."
Throughout her life, Tufte has spent time coaching her soccer, basketball and volleyball teams. He enjoys playing in the City of Cottonwood's recreational volleyball league, too. "We play as a family," Tufte said, "and she tolerates my limited volleyball skills."
On his last family vacation, the Tuftes went to Disneyland. "I grew up a Star Wars fan," Tufte said. "I got to do an experience with my daughter where we built a robot together. That was really special." Tufte also recently enjoyed being with family and friends to try their skills at an escape room in Cottonwood. "We came just short of success," Tufte said, "but it was a fun time."
If he could meet anyone from the past, Tufte would choose George Washington, Abraham Lincoln or Franklin Delano Roosevelt. "I would like to ask each of them how they had the energy to do what they did under each of their unique circumstances," he said. "How did they lead?"
For Tufte, he thinks an important part of leadership is inspiring the best in others. "I believe in surrounding myself with great people," he said, "and empowering them to be the best they can be. I always want to be the dumbest person in the room. That's how I learn. I'm not afraid to hire people who are smarter than me and I have employees who have been with me more than 16 years."
"Building relationships is so important," Tufte said. "You never know who might be a resource. Everyone you talk to is an opportunity." Tufte's own resilience has allowed him to accomplish a great deal both professionally and personally. "There are only successes and learning opportunities," Tufte said. "There are no failures, just a new path to come."
Cindy Cole is a freelancer for the Independent. She is a writer, editor, photographer and artist. Reach her at cindycole@live.com.