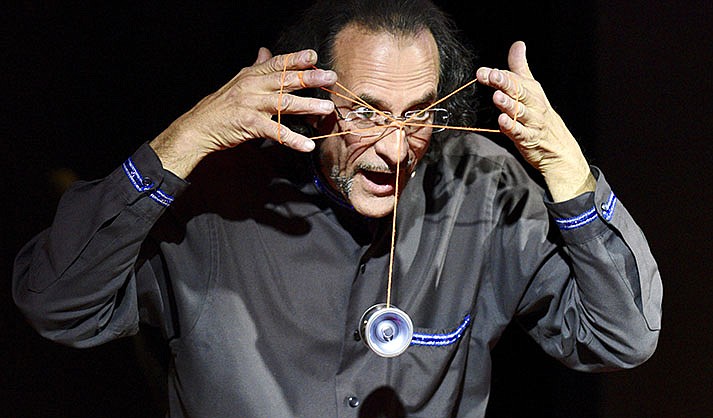 ---
---
The Arts Academy of Sedona (AAS) has announced that its March events will highlight two returning favorites at its luxurious black box theater in The Collective Sedona in the Village of Oak Creek (7000 SR-179, STE C-100).
For area residents who want to dance the night away to music from the 1970s to today, AAS presents Sedona Soul Jam II on Saturday night, March 11, featuring internationally-renown DJ and Sedona resident Nathan Quinn spinning all the hits. This fundraiser for the Arts Academy of Sedona kicks off with a private VIP Party from 6-8 p.m. (including drink ticket and appetizers) before the Sedona Soul Jam II opens to the public at 8 p.m. Tickets are $20 for general admission and $75 for the VIP event at bit.ly/sedona-soul-jam11-eb.
For additional information and to purchase tickets by phone please call 860-705-9711.
In recognition of Mar. being Women's History Month, the theme of the AAS Friday Night at the Theater program on Mar. 17 from 7-8:30 p.m. will be 'Celebrating Women.' Once again, a variety of local performers, including musicians, singers, dancers, poets, and spoken-word artists will display their singing, dancing, instrumental, recitation, and dramatic talents. The tentative cast includes: A.V. Camarda, Woody and Shelley Haiken, Stephen Hanks, Gary Every, Cassie Mavis, Chantal Harte and Jashan Blackwell (The Traveling Troubadours), Michael Steele, Sandi Schenholm, Camilla Ross, Shaeri Richards, and Craig Schneider.
If you'd like to enjoy some local eats during the performances, you can order dinner from Rotten Johnny's Pizza at RottenJohnnys.com or Dellepiane's Burgers at DellepianeBurger.com. Be sure to place your food order by 6 p.m. so it will be ready in time for pick-up before the show.
Tickets are $20 per person in advance and $30 at the door. Advance tickets can be purchased at bit.ly/aaa-friday-nite22. For additional information or to book your tickets by phone, please call 860-705-9711.
Arts Academy of Sedona is a not-for-profit educational and cultural community center committed to innovating and creating art in all forms, and to bringing our programs to local Sedona residents and visitors. Contact us at The Collective Sedona, the Village of Oak Creek (7000 SR-179, STE C-100), 928-288-2258.