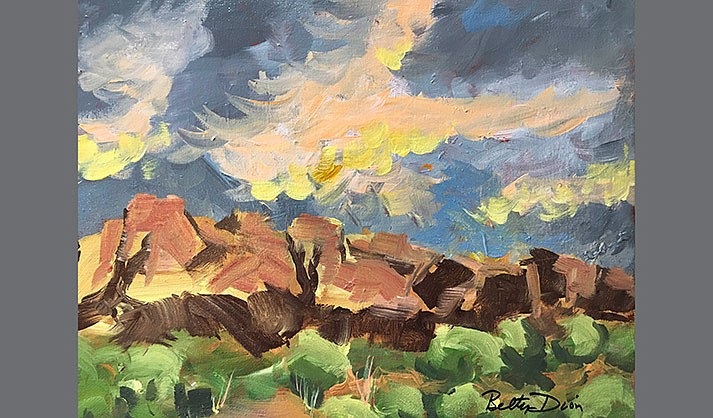 ---
---
Painter Betty Dion has enjoyed creative activities all her life, devising, among other things, weavings and pottery that she has always loved to display and share. As a design consultant for major architectural firms worldwide, artistry and creation were key components of her professional success as well.
But though she got started as a painter later in life than most artists, she quickly made up for lost time in that medium.
The Sedona Renegades Artist Group and the Sedona Center for Harmony and Enrichment are thus delighted to welcome Dion as the venue's featured guest artist in March. The public is invited to meet her and view an engaging sampling of her works at its monthly First Friday reception on March 3 from 5-7:30 p.m.
Originally a watercolor painter, Dion started out as a self-taught artist in that medium. But after her initial successes, she traveled across multiple continents to bolster her skills via advanced classes and workshops. When she arrived for one in Sedona, she was immediately captivated by the area's monumental red rocks and vivid lights and shadows, inspirational for a plein air painter. In response, she added acrylics to her repertoire to capture the strong values and intense colors of the region.
She has been fascinated with the Southwest ever since – so much so, in fact, that she founded the Sedona Plein Air Network, a group of like-minded artists who gather regularly to visit and interpret new settings.
Sedona Center for Harmony & Enrichment is a welcoming rental space that is a home for practitioners, artists, and event creators. In addition to the Renegades art exhibits, it hosts private healing sessions, yoga classes, movement classes, workshops, intimate retreats, meditative art classes, meditation groups, women's circles, men's circles and more. For information on renting this space, contact Tatia Fick at 928-554-1951 or visit SedonaCHE.com.
The Sedona Renegades Artist Group has been long known for organizing exhibits in local venues and is now delighted to be in residence at SCHE. Led by Jim Peterson, Carol Gandolfo, and Karen O'Donnell, the group features an outstanding guest artist each month plus many fine works by its distinguished member artists.
The Renegades include Jodie Ball, Janice Davis, Carol Gandolfo, Rick Gandolfo, David Marsh, Kerani Marie, Karen O'Donnell, Jim Peterson, and Rafael Ramos.
Their exhibit can be viewed in the heart of gallery row on the upper level of Hozho Center, 431 State Route 179, Suite A6, Sedona, AZ 86336. For more information, contact Jim Peterson at 602-828-7407 or Tatia Fick at 928-554-1951.