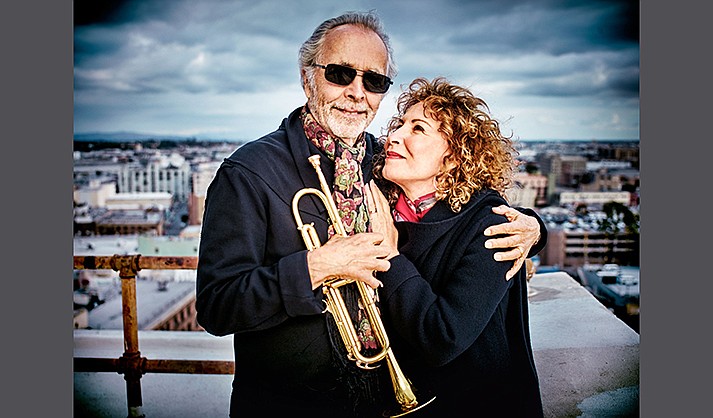 ---
---
A legendary trumpet player whose hits shaped the sound of an age; a GRAMMY-winning vocalist and an evening full of cherished music, memories and joy. Yavapai College Performing Arts Center proudly presents pop icons Herb Alpert & Lani Hall, performing Saturday night, Mar. 11, at 7 p.m.
Herb Alpert's extraordinary musicianship helped expand and define late 20th Century pop. His extraordinary career earned him five No. 1 hits, nine Grammy Awards – the latest from his 2014 album 'Steppin' Out' – and sold over 72 million records. Herb Alpert & The Tijuana Brass propelled his energetic sound into the pop music limelight. In 1966, they became the only artists ever to have four albums in the Top 10 – and five in the Top 20.
Alpert's hits read like a set list of American favorites: 'The Lonely Bull,' 'Tijuana Taxi,' 'Spanish Flea'; the Grammy winners 'A Taste Of Honey' and 'What Now My Love,' and the No. 1 hits 'This Guy's In Love With You' and 'Rise.' In all, Alpert has recorded over thirty albums and produced for many other artists, including Sergio Mendes & Brasil '66, Stan Getz, Michel Colombier, Gato Barbieri, and Lani Hall, the Grammy-winning former Brasil '66 vocalist who is Alpert's partner in life and on tour.
A peerless musician-turned-recording-industry-leader, Alpert's vision guided A&M Records from a Hollywood garage operation into one of the most successful independent record labels in music history. In 2006, Alpert and A&M partner Jerry Moss were inducted into the Rock and Roll Hall of Fame. In 2013, Herb Alpert was awarded The National Medal of Arts Award by President Barack Obama for his musical, philanthropic and artistic contributions.
Now back on tour, Alpert and Hall's upbeat blend of classic hits, innovative jazz arrangements and new work has been delighting and inspiring new fans – as well as those who remember when. "There is a certain satisfaction and energy that comes from playing the horn," Alpert says, "a feeling that I am really in my element. I am passionate about what I am doing. I am just trying to create whatever comes out in the spontaneity of the moment."
Remaining tickets for Herb Alpert & Lani Hall start at $45. Yavapai College Performing Arts Center is located at 1100 E. Sheldon Street, in Prescott. The YCPAC Ticket Office is open Tuesdays and Wednesdays, from 9 a.m. – 6 p.m.; and Thursdays and Fridays, from 9 a.m. - 4 p.m. For reservations or more information, please call 928-776-2000 or visit us online at YCPAC.com.