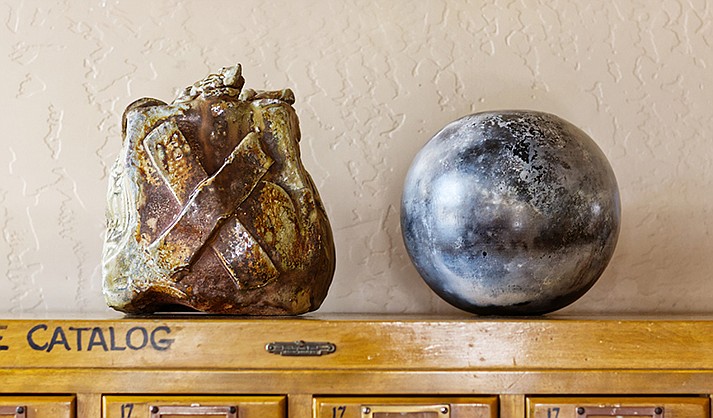 ---
---
Art in the Clark proudly presents 'Evolution of Reitz Ranch and Box Car clay' on display now through March at Clark Memorial Library during regular hours. A beautiful ceramic showing, a wonderful juxtaposition of old and new. Come and view current artworks from Karen Jay and unearthed treasures of Don Reitz.
Since the '90s, the high desert Ranch just outside Clarkdale was home and studio to famed ceramicist Don Reitz, who experimented with various atmospheric firing techniques while building four large wood-fired kilns on the property.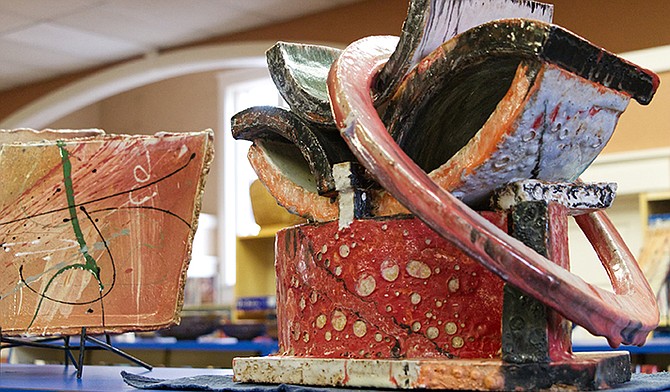 With his passing in 2014, the ceramic world could have lost all his creative placemaking. It was a blessing to the art community when Tedd and Sheryl Davault purchased the property and opened Reitz Ranch Center for Ceramic Arts, carrying Don's legacy now and in the future. They offer studio space, residencies, workshops, and classes, along with opening Box Car Clay, a storefront supporting the needs of traditional and contemporary ceramicists in Northern Arizona. Tedd and Sheryl have created the nucleus of the ceramic scene. Visit reitzranch.org for more information.
This show features current Reitz Ranch artist Kristin Jay's etheric pit-fired sculptural pots and orbs, her more recent 13 one-of-a-kind functional bowls, and Yunomis, five pairs of cups.

Clark Memorial Library, located at 39 N. Ninth St. in the Clarkdale Town Center, is open Monday through Thursday, 1 p.m. to 5:30 p.m., and Friday, 8 a.m. to noon.
Art in the Clark, a year-round program of the Friends of Clark Memorial Library, brings meaningful art to the library and promotes Verde Valley art and artists. For more on Art in the Clark exhibits, go to FriendsOfCML.org/art. For more information about Clark Memorial Library visit YCFLD.Gov/clarkdale or call the library at 928-634-5423.