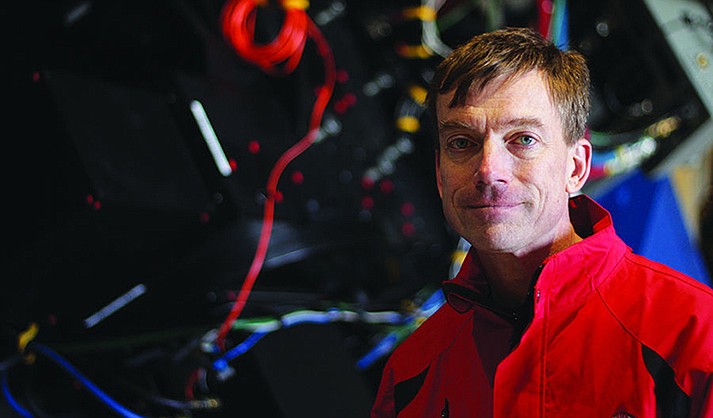 ---
---
The Phillip England Center for the Performing Arts Foundation will sponsor a special free program titled, Telescopes Around (And Out Of) This World.
The program is scheduled for Sunday, March 5, at 3 p.m. and will be presented by Jeffrey Hall, PhD, executive director of Lowell Observatory. The Phillip England Center is located at 210 Camp Lincoln Road in Camp Verde.
Astronomers interpret the Universe through the analysis of light, and telescopes, the fundamental tools of the astronomy trade, are sometimes referred to as 'light buckets.' Since the invention of the first telescope by Galileo and his contemporaries in the early 1600s, telescopes have developed into enormous and complex machines, operating both on the ground and in space.
Starting with a tour of the 4.3-meter Lowell Discovery telescope atop a bluff near Happy Jack overlooking the Verde Valley, Hall will take attendees on a tour of a variety of telescopes around the world and in space, and describe how they have progressively enhanced our understanding of the Universe.
Jeffrey Hall received his BA in Physics from Johns Hopkins and his PhD in Astronomy & Astrophysics from Penn State. He joined the staff at Lowell Observatory in 1992 as a postdoctoral research fellow, and was appointed Lowell's Director in Dec. 2010. Jeff presently serves on the American Astronomical Society's Committee on Light Pollution, Radio Interference, and Space Debris, and he is also the Chair of the Solar Observatory Council for the Association of Universities for Research in Astronomy.
He has played an active role in dark-sky preservation in Arizona and has been deeply involved in understanding the impacts of large satellite constellations on ground-based astronomy.
The next Foundation event at the Phillip England Center will be on Sunday, April 30, at 3 p.m. It will feature The Meadowlark Ensemble, including flute, Irish whistles, mandolin, violin, piano and percussion. The group's music is described as 'Pure Celtic-crossover magic' that weaves together an exciting mix of world influences, Celtic tunes, and original compositions.