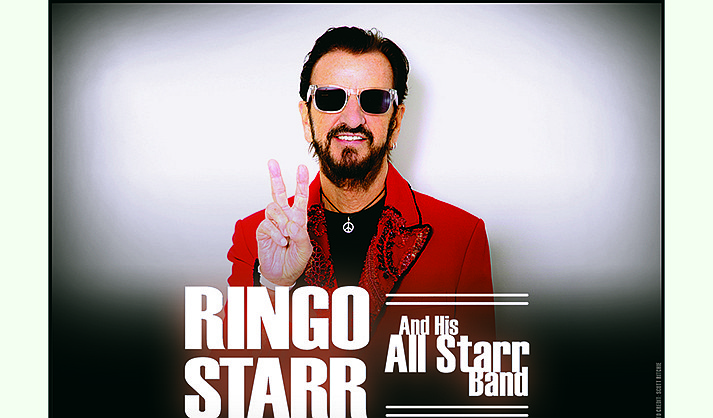 ---
---
Danny Zelisko Presents Ringo Starr and His All Starr Band, including Steve Lukather, Colin Hay, Edgar Winter, Warren Ham, Hamish Stuart, and Gregg Bissonette, coming to Prescott Valley on Tuesday, May 30 at Findlay Toyota Center. Tickets go on sale this Friday, Feb. 24 at 10 a.m. at the arena box office and on Ticketmaster.com.
"It's a new year and here are some new tour dates," Ringo affirmed. "I love playing with the All Starrs and can't wait to be back out on the road again with this band. I send Peace and Love to you all and we hope to see you out there."
2022 was a busy year for Ringo that included Spring and Fall tour dates with his All Starr band. Ringo also released EP3 on Sept. 16, 2022 and on Nov. 18, 2022 EP3 was issued on 10" vinyl and blue cassette and accompanied with a new music video, 'Everyone and Everything.' On Nov. 25, 2022, Ringo Starr and His All Starr Band Live at the Greek 2019 (Roccabella via BFD/The Orchard) was released on Blu Ray, DVD, CD and a special yellow double vinyl. In addition, Ringo created 500 life-sized 'Peace and Love' sculptures of his iconic hand symbol. These were sold exclusively through Julien's Auctions to benefit the Lotus Foundation (JuliensAuctions.com.)
ABOUT DANNY ZELISKO PRESENTS
Danny Zelisko has been bringing shows to the Southwest since 1974. He founded the legendary Evening Star Productions in 1976, helping make the southwest a viable stop on most contemporary tours, producing thousands of shows over the years. Danny proudly partnered Grateful Dead shows with Bill Graham Presents in Phoenix and Las Vegas in the 80s and 90s.
ABOUT FINDLAY TOYOTA CENTER
The Findlay Toyota Center is a 6,000-seat venue, located in Prescott Valley, AZ approximately 85 miles north of Phoenix, which serves the Prescott, Sedona, and Flagstaff metro areas. The venue hosts concerts, sporting events, motorsports, and community events. Major events have included Willie Nelson, Dierks Bentley, Mannheim Steamroller, James Taylor, Toby Keith, Chicago, and Stevie Nicks. Learn more at www.findlaytoyotacenter.com. Follow us on Facebook, Instagram, and Twitter.
ABOUT OVG360
OVG360, a division of Oak View Group, is a full-service venue management and hospitality company that helps client-partners reimagine the sports, live entertainment, and convention industries for the betterment of the venue, employees, artists, athletes, and surrounding communities. With a portfolio of more than 200 client partners spanning arenas, stadiums, convention centers, performing arts centers, cultural institutions, and state fairs around the globe, OVG360 provides a set of services, resources, and expertise designed to elevate every aspect of business that matters to venue operators. Service-oriented and driven by social responsibility, OVG360 helps facilities drive value through excellence and innovation in food services, booking and content development, sustainable operations, public health, public safety, and more. Learn more at OakViewGroup.com, and follow OVG on Facebook, Instagram, Twitter, and LinkedIn.