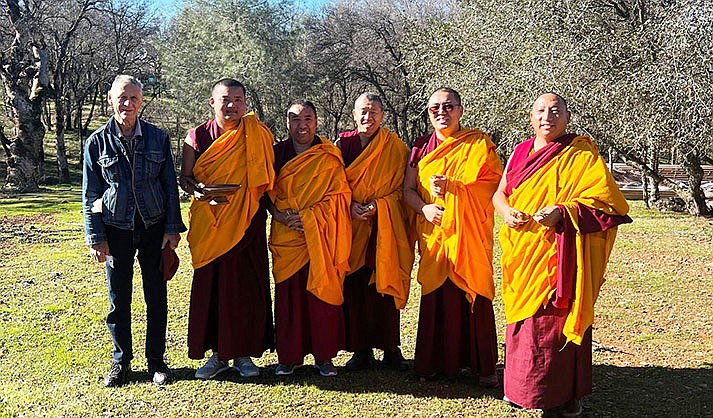 ---
---
Monks from GadenShartse Monastery will create a sand mandala and offer lectures, healings, ceremonies and empowerments to Sedona residents and visitors
The GadenShartse Cultural Foundation 'Sacred Earth and Healing Arts of Tibet' Tour will return to Sedona, March 5-22, 2023. The Tibetan monks have been visiting Sedona since 1989 to spread peace, compassion and tolerance through cultural exchange, interfaith dialogue, and Buddhist teachings.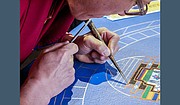 While in Sedona, the monks will be creating a Maitreya Sand Mandala (The Buddha of Love) at Sedonya Conscious Living Center for 11 days, March 7 – 17, with 18 days of activities. Maitreya is a Bodhisattva who appears on Earth when needed. 'Maitri' is Sanskirt for 'Boundless Love and Kindness.' Come see the Sand Mandala take shape, to learn more about Tibetan art, or to just sit and meditate daily from 8 a.m. to 5 p.m.
The tour will begin with a free event on Sunday, March 5, at 8 a.m. with prayers for humanity, health and peace at the Sedona Amitabha Stupa located at 2650 Pueblo Drive. The monks will then move to The Global Center for Christ Consciousness, 100 Northview Road, presenting authentic, sacred deep tonal chanting and a meditation from 10 a.m. to 11:30 a.m. followed by a Healing Empowerment.
On March 6, the monks give a free lecture at OLLI, 4215 Arts Village Drive, sharing details of their lives in a southern Indian Monastery.

The Maitreya Sand Mandala free opening ceremony is on March 7 at the Sedona Conscious Living Center. The sand mandala creation culminates with a closing ceremony on Friday, March 17 at 9 a.m. when the Monks sweep up and share the mandala sand. The suggested donation for this event is $11 and participants will receive small bags of the sand from the mandela. The remaining blessed sand will then be ceremonially dispersed into the waters of Sedona as a gift to the earth and healing for the environment.
The monks will be offering over 30 other events including four workshops, four lectures, 12 empowerments, a Puja ceremony and a musical evening.
Additionally there is a Tibetan dinner made by the Monks, Personal healings, and house, business and property blessings. The majority of events will be located at Sedonya, 120 Deer Trail Drive, Sedona and one event at Village Yoga in the VOC.
The popular Pet Blessing will be held on March 15 at 3:30 p.m. in cooperation with the Humane Society of Sedona. An exclusive 'Lunch with the Monks' event will be held at L'Auberge de Sedona on Friday March 17, tickets registration necessary.

Also, this year there are two special events.
On Tuesday March 21 there is a one day retreat on Boundless Love and a Chenrezig Initiation (The Blessing of Buddha Compassion) at the Surrender Retreat House. To register visit CommunionWithLove.com.
Then on Wednesday, March 22, at Sedonya, the Monks will perform a Refuge Ceremony for those who chose to take a wholehearted committed vow to the Buddhist path. A final free Dedication Prayer at the Amitabha will be on Sunday, March 19, at 9 a.m.
Register at Village Yoga VillageYogaSedona.com. If spaces are left one can pay at the door. For full schedule visit Facebook.com/SedonaSat or SacredArtsOfTibetTour.org.