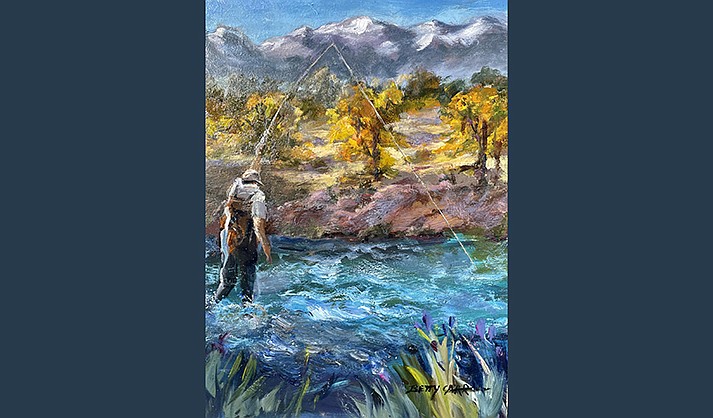 ---
---
Mountain Trails Gallery Sedona is delighted to present contemporary and traditional award-winning artists that are on the trail in search of new sights that inspire in their new exhibition 'On the Trail: Landscapes that Speak.' Bringing a reminder in their paintings to go out and enjoy nature, these artists share their love of the Grand Canyon, Sonoran Desert, wine country vineyards, alpine vistas, and their favorite Sedona destinations such as Cathedral Rock, Oak Creek, Slide Rock, Tlaquepaque, as well as Monument Valley, neighboring Chaco Canyon, the deserts and cultures of New Mexico, and mountains and valleys of Colorado.  From hiking trails to grand vistas, the landscapes of the West speak volumes from all these artists who inspire with their discoveries and particular ways of painting.
Featured in this spring exhibition are artists who are avid hikers, climbers, and outdoors most of their life while others balance their interests with travel and surprise.  Southwestern painters such as Joshua Been, Richard Boyer, Betty Carr, Bill Cramer, Cody DeLong, Linda Glover Gooch, Susie Hyer, Suzanne Nyberg, Sarah Phippen, Tamara Rymer, Gregory Stocks, and Simon Winegar are among the inspired artists who have so many stories to tell as they share their techniques and journey to discovery.
Bringing a contemporary twist to Mountain Trails Gallery are the brilliant landscape artists Michelle Condrat and Marcia Molnar who both are the happiest at the Grand Canyon.  They wake up early and stay late for each and every dramatic opportunity as well as for those peaceful moments that capture the special refractions of color as well as their unique ways of suggesting movement with light.  In addition, the landscapes of David Jonason bring his way of looking into the geometry of nature and the drama of color, while the expressionist Greg Dye mixes and creates as he goes with the most direct application of paint and strokes of color.
All these artists and more are waiting to be discovered as they each bring the grandeur of nature to each and every painting, and they also bring along enchantment, revelation, recognition, and realization of more than meets the eye in what can be discovered.  
'On the Trail: Landscapes that Speak' opens with a reception at Mountain Trails Gallery in the festive Village of Tlaquepaque on First Friday, March 3, with a reception from 4- 7 p.m. and continues throughout the month of Mar.  For more information contact the gallery at 928-282-3225, FineArt@MountainTrailsSedona.com, MountainTrailsSedona.com, Instagram at #MountainTrailsSedona, Facebook @MTGSedona.