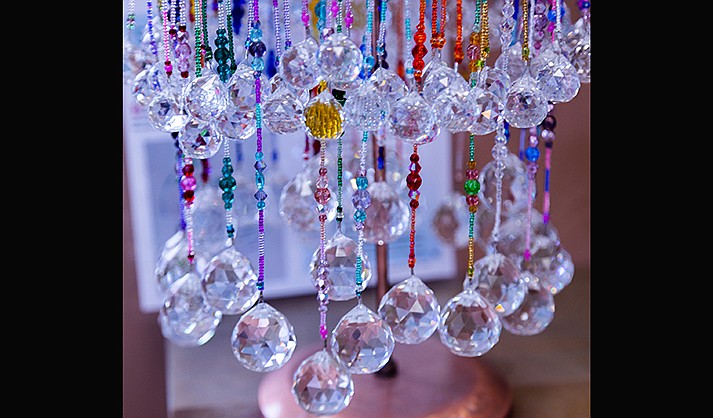 ---
---
The Village Gallery of Local Artists will feature glass and crystal artist Judith Beals during the month of March. Beals has created a collection of crystal hangings using Czech glass and Swarovski crystals. There will be a reception at the gallery from 5-8 p.m. on March 3.
Beals is originally from Northampton, MA where she taught English. Once she left that career she dove full time into her love of creating art. In 1979 Beals opened a stained glass studio and gift gallery, which offered classes. She also participated in large Arts and Crafts shows in Boston, Bayside and Commonwealth Pier, and showed her artwork in galleries all over New England. Among the galleries were Firesigns, in North Conway, New Hampshire, and the Hearle Gallery on Cape Cod, Massachusetts.
When Firesigns moved their gallery to Sedona in the late 1980s, they invited Beals out to visit. This was when she first viewed the red rocks of Sedona and was overwhelmed by their beauty. Beals knew immediately that she had found her new home.
Beals finally made Sedona her home in 1990, and has made many contributions to the local art scene. Beals is a member artist at the Village Gallery of Local Artists; has worked in galleries and jewelry stores; taught stained glass at the Sedona Arts Center, participated in establishing a co-op at Hillside, and fashioned many stained glass windows in the area for builders, private homes and businesses. Examples of her windows can be seen at Coffee Pot Restaurant and the Desert Quail Inn.
Beals started fashioning her crystal hangings in 1998 after selling her business, Sundance Art Glass. In 2012, Judith was inspired to change the focus of her creations from Fung Shui to 'Healing Crystals.' Beals developed her 25 different 'Healing Intentions,' such as Love, Harmony, Joy, Grounding and more, based on chakra colors. She also created the ceremony she performs on all of her pieces, calling in her spiritual guides, angels, elementals and higher deities to instill the intentions.
Beals spent several years experimenting to get the correct length and bead arrangements for each of the three sizes of her hangings. The small hanging is great as a pendulum, whereas the middle and larger sizes are perfect to hang in a sunny window. Beals loves how they catch the light and fill a room with dancing rainbows. She says, "There is a lot of darkness in the world and I've always wanted to share light with others".
Beads states, "Art has always played a big part in my life." She also works with watercolors and acrylics and is also a writer. In 2019 she published a book, 'Messages for Beyond,' where she expands on the many messages she has received over a 50-year period.
The public is invited to meet and speak to Beals and other member artists and enjoy refreshments at the reception on Friday, March 3, from 5-8 p.m. The Village Gallery is always accepting applications for unique art and is located at 6512 State Route 179 in the Village of Oak Creek. For more information, go to SedonaLocalArtists.com or call 928-284-1416.