Big Park Council, KSB express concerns over APS project with CNF supervisor
By Duane Thompson, Special to the Villager
Originally Published: March 8, 2023 9:56 a.m.
Representatives from Big Park Council and Keep Sedona Beautiful met Feb . 17 with Aaron Mayville, the incoming supervisor of the 1.8 million-acre Coconino National Forest and key decisionmaker on Arizona Public Service's controversial powerline project.
BPC President John Wichert, KSB board member Mark Lawler, and Duane Thompson, chair of BPC's subcommittee reviewing the project, met for an hour with the new CNF supervisor, Red Rock District Ranger Amy Tinderholt, and other CNF staff at the Forest's main office in Flagstaff to exchange ideas and identify key issues of concern.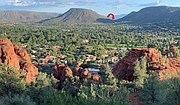 "We were very pleased with having the opportunity to meet with Supervisor Mayville," said Wichert, "and being able to express our concerns in person regarding a project design that would ultimately detract from the incredible red rock scenery surrounding the Village of Oak Creek."
APS has proposed an above-ground, 13.7 mile 'loop' between McGuireville and the Village of Oak Creek that would provide backup power in the event of an outage. Both communities are currently served by single terminals. Most of the proposed route would cross national forest land, requiring special approval by Coconino National Forest's supervisor.
While supporting infrastructure resilience, the Council and KSB objected to APS's conventional above-ground power line as the best solution, citing concerns with increasing wildfire risk and questioning a utility-funded study that was included in the Forest Service review. The study concluded that powerlines had little or no impact on residential property values. It was commissioned by a New England utility company as part of a proposed powerline project. After a nearly 10-year battle, the project was eventually rejected by a New Hampshire state agency and dismissed upon appeal to the state Supreme Court in a 7-0 ruling.
During the meeting, KSB and Council representatives suggested other, more environmentally friendly alternatives should be studied. One idea put forward by the two organizations is for the Forest Service to consider having propane generators on-site at the Oak Creek and McGuireville substations instead of building a new powerline.
Although the Forest Service had initially studied three options – an all above-ground powerline, all buried, or no-action – it is currently considering a blend of above-ground with about 40 percent buried along sections of Cornville and Beaverhead Flat roads. A portion of Kel Fox Trail would be re-routed to the west and a lengthy section would parallel the new, above-ground powerline section which would enter the Village of Oak Creek in a gap between two mesas and then join with the existing powerline. One short section of the combined powerlines would be buried underneath Highway 179.
In the meantime, it appears likely that the Forest Service will approve a preliminary study by APS to drill 32 boring holes and undertake other seismic testing to identify soil and rock formations along the anticipated project route. The drilling project is expected to take 2-3 weeks. Both KSB and Big Park Council question the need to undertake the study until after a final decision is made by Mayville.
Once a final decision is issued by CNF, interested parties would have 45 days to appeal the decision to the regional forester in Albuquerque.
---
-
SUBMIT FEEDBACK
Click Below to: