New Trails – A Process
By Kevin Adams, President of Sedona Red Rock Trail Fund
Originally Published: March 8, 2023 9:14 a.m.
In November 2012, more than 100 determined trail enthusiasts, sardine-packed themselves into a tiny room in the Village of Oak Creek and kick-started a master planning process for the USFS Red Rock Ranger District trail system.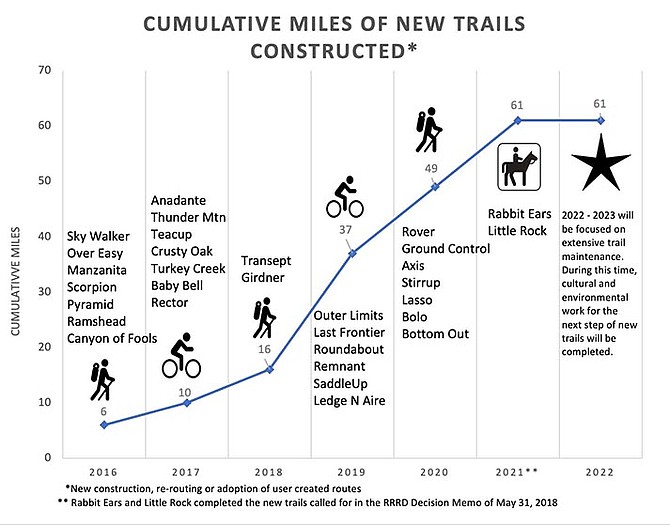 As a result of this year-long sequence of public meetings, more than 130 miles of new non-motorized trails were identified along with enhancements to existing trails. And from that planning, 61 miles of new trails were approved and constructed.
These meetings also produced a new emphasis on trail maintenance. Trail Crew members (staff who do the actual trail maintenance) increased from one full-year and two seasonal, to two full-year and 12 seasonal members on duty this field season. The current crew now maintains 250-300 trail miles annually.
And last, to pay for this ambitious plan, the Sedona Red Rock Trail Fund was created to raise funds for the maintenance and enhancement of the non-motorized trails on National Forest land near Sedona and the Village of Oak Creek, and to educate the public about trail management issues.
Process Improvement for the Next Phase
The Red Rock Ranger District is now working on the next phase of 56 miles of trail enhancements using a new process that may exclude these enhancements from more lengthy environmental review and analysis (known as "categorical exclusions"). Categorical exclusion still involves interdisciplinary review and documentation through the established planning process to avoid and minimize environmental impacts.
The District must first determine that no extraordinary circumstances are present in any proposed project area to categorically exclude the project(s). This is accomplished with input from an interdisciplinary team of staff specialists that also analyze how the proposed project may affect their individual resource.
The wildlife biologist reviews the impact of the proposed action on terrestrial threatened and endangered species, as well as on migratory birds and Forest Service sensitive species. If threatened and endangered species impacts are anticipated, the Forest Service then consults with the U.S. Fish & Wildlife Service.
The hydrology specialist's review focuses on wetland or municipal watershed impacts. The wilderness specialist determines if the project falls in any congressionally designated areas such as wilderness, and assesses if the project aligns with the intent of the designation(s). Other specialists will ensure that proposed action is consistent with the Coconino National Forest Plan and other laws and regulations.
Lastly, the District's archaeologist must determine if there are likely impacts to First Nations' archaeological sites or historic properties. This typically requires surveying the area and consulting with the State Historic Preservation Office on findings. Archaeologists from Tetra Tech, under contract to and funded by the Sedona Red Rock Trail Fund, are conducting these surveys over the next several months. You may see them performing their field work in select forest areas near the Village and Sedona.
Public concerns and specialist input are considered in the District's decision process, which will hopefully culminate in a Decision Memo approving proposed trail enhancements, new trails and any associated design features/mitigation measures. Implementation will then take several years as funding allows.
---
-
SUBMIT FEEDBACK
Click Below to: