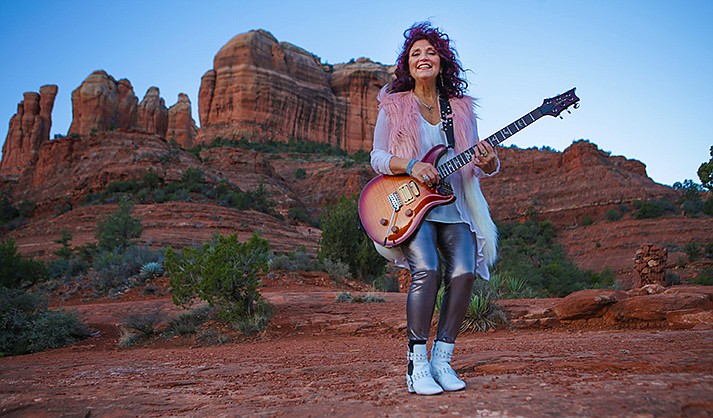 ---
---
On Sunday, Mar. 12, from 5 to 8 p.m., Sound Bites Grill is featuring Dream Beat, a five-piece band that proves that when it comes to great music, dreams do come true.
Magic fills the air when creative powerhouses Valerie Romanoff on guitar and vocals and Francine Bop, on keyboard and vocals, get together.
Joined by Allen Ferro on drums, Lynzi Kat on bass guitar, vocalist Adriel Zang-Perrault and special guest vocalist Saith, the group creates a groove and mystical ambiance that takes their audience on a magic carpet ride through uncharted musical landscapes of joy, hopes and dreams.

Their music is filled with positive vibes, great grooves, and healing energy.
Dream Beat blends chill-out music and world fusion with a sprinkling of funk, pop and soul.

With Spiritual-Funk and a Cosmic Groove, Valerie, an award -winning-guitarist and composer, takes her listeners through a full spectrum of music from STILL (music for meditation), CHILL (music for activation) to THRILL (music for celebration).
She specializes in crafting unique musical experiences by tapping into the vibration of music and the energy surrounding us.

Valerie believes that bringing positive intentions and affirmations into each of our activities empowers a vibrant life of joy and expanding awareness.
Her latest album, 'Healing Music Volume 2,' won accolades for Best Meditation Music and Best World Fusion album (from the Coalition of Visionary Resources and The Zone Music Reporter). She is known for her bright presence onstage, her skill in creating uplifting performances, and her talent for bringing together world-class performers.

But nothing defines Valerie as much as her captivating and energetic electric guitar playing.
Francine Bop comes from Queens New York and has been playing in bands since the age of 14.
She was introduced to Blues and Rock at a young age and was brought up on The Beatles and Billie Holiday.
She has played in bands from New York to Florida and as well as Blues Festivals in the South and Alabama.
Francine's keyboard playing is abstract and free form, her vocal style is smooth and soulful. She ran an improv jam band for many years in Sedona called Cult 45 and now has teamed up with Valerie, together forming Dream Beat and a brand-new sound that is all their own.
Enter the Dream. Get down with the Beat with Dream Beat!
Also featured this weekend at Sound Bites Grill are the Sir Harrison Blues Band, Friday Mar. 10 from 6 to 9 p.m. and the Chris Counelis Jazz Band on Saturday, Mar. 11, from 6 to 9 p.m.
Dream Beat will also play Sound Bites Grill on Sunday, Mar. 19.
Sound Bites Grill is located at the Shops at Piñon Point adjacent to the Hyatt in Sedona. For more information please visit SoundBitesGrill.com or call 928-282-2713. Tickets can be purchased online via their Website.