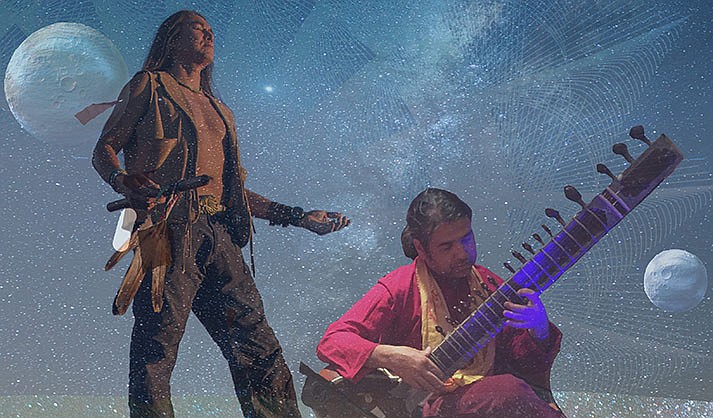 ---
---
Red Earth Theatre is honored to bring you 'Songs for the Spring Stars' an acoustic musical experience with local musicians Renick Turley on piano and sitar, and Kelvin Mockingbird on Native American flute. Two performances are offered (6pm and 7pm) on Thursday, March 16th in the Chapel at Tlaquepaque.
Renick is a classically trained pianist and composer. While piano is his first love, he spent years as a devoted student of sitar, and classical Indian music, under Maestro Ali Akbar Khan.
Before You Go...
What: Songs for the Spring Stars
When: Thursday, March 16, 6 p.m. and 7 p.m.
Where: The Chapel at the Patio de la Camilla at Tlaquepaque
Cost: $15
Renick's musical and spiritual explorations imbue his music with a transcendental quality that dissolve boundaries between genre and expression. His devotion to music as a path and practice infuses his playing with a frequency that transports the listener.
Renick aspires to help people share their visions through the art of storytelling and the medium of sound and video. Renick is also an award-winning filmmaker and editor who has produced feature films, documentaries and worked for major broadcasters during his 20-year career.
Kelvin Mockingbird (Dine`) creates melodies that nurture the soul, promoting peace, harmony and balance. Mockingbird's spacious and meditative playing is firmly rooted in his personal philosophy; "We are only a single note lingering in this cosmos, but as one people we make a strong chord in harmony with the universe." Kelvin weaves 27 years of award winning flute melodies with medicine stories of the Dine.
As a member of the highly influential musical group Burning Sky, Mockingbird received a Grammy® nomination for Best Native American Album for the album "Spirits in the Wind" in 2002. Mockingbird released his first, solo flute recording through Canyon Records, called "Sacred Fire", in 2006, with melodies that reflect his deep-rooted philosophy and spiritualism.
His album "Night Echo - Star Seed: Meditation Songs for Native American Flute can also be found at Canyon records.Bandcamp.com
Currently, Solo artist Kelvin Mockingbird performs throughout the Southwest. For more information visit https://mockingbird-music.square.site/
Join Renick and Kelvin for a uniquely intimate and transformational performance in the resonant beauty of the Chapel at Tlaquepaque. Two forty-five minute performances are offered, at 6pm and 7pm. Dress warmly and come share in this chord of harmony.