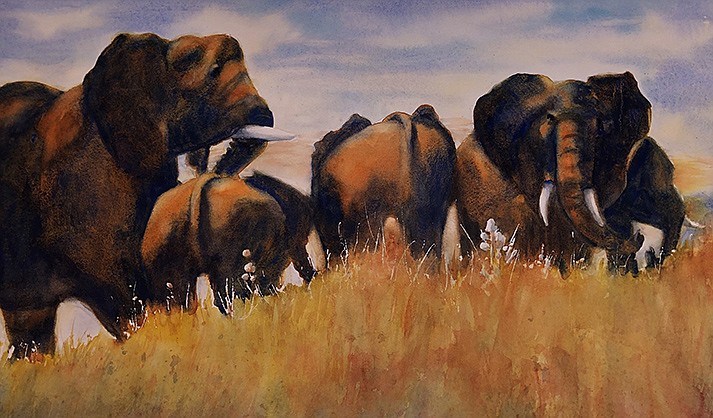 ---
---
Sedona Public Library in Sedona invites you to enjoy the work of local artists in the library's serene setting. Several dozen petite paintings will be on display at the library from Mar. 15 through Apr. 10 at 3250 White Bear Road in Sedona. These small works, most of which will be for sale, represent a wide variety of subjects, styles, and water-soluble mediums including watercolor, acrylic and ink.
This intimate display can be seen during standard Library hours of operation – Monday, Tuesday, and Thursday, 10 a.m. to 6 p.m.; Wednesday, 10 a.m. to 8 p.m.; Friday and Saturday, 10 a.m. to 5 p.m.; and closed Sundays. This show is a partnership between Sedona Public Library and the Northern Arizona Watercolor Society (NAWS), a regional non-profit watermedia art association with members from Flagstaff to Prescott.
"The Verde Valley is rich in its written, oral, and visual history. Sedona Public Library is fortunate to partner with many artistic groups who are willing to showcase their talents" says Jan Marc Quisumbing, Sedona Public Library's Program and Marketing Coordinator. "We hope to continue to be a place where art thrives and is accessible to everyone. We are the community library that connects."
Sedona Public Library is a 501(c)(3) nonprofit organization. To make a tax-deductible donation, please visit SedonaLibrary.Org/donate or send your check to Sedona Public Library. Remember you can direct your gift to the Village Library as well.
Founded in 1995, NAWS has about 150 members who meet monthly to celebrate watermedia painting. These meetings typically feature informative learning topics and artist demonstrations. Additional membership benefits include access to exceptional quality workshops, participation in smaller critique groups and an extensive DVD loan library of painting technique videos. NAWS welcomes visitors to its monthly meetings. For more information about NAWS, please visit www.NAWS-AZ.org or email your NAWS-related questions to NAWSMembershipJoy@gmail.com.