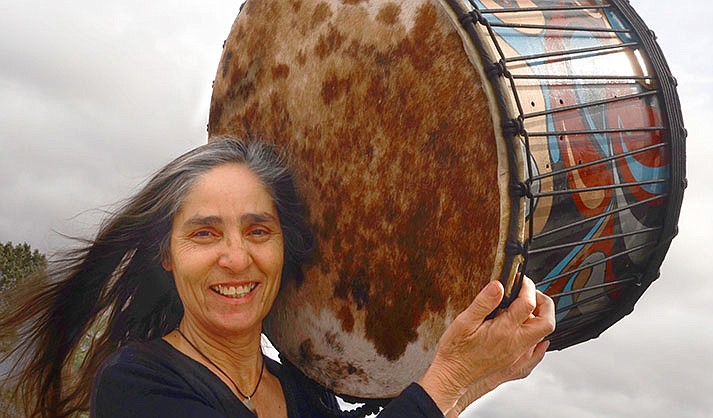 ---
---
Sabina Sandoval isn't teaching people how to drum during her drum circles, she is teaching people how to live.
And the drummer of Mayan descent has made the heartbeat her mission.
The heartbeat is the pulse of the earth," said Sandoval. The drum is the closest thing that sounds like a heartbeat.
Sandoval is bringing people together with one of the most amazing instruments in the world, she said. "It's bringing people to a higher balance of healthiness."
Sandoval said her vision is to hold amazing events with people who want to play drums, celebrate and to try something new.
Through the rhythm, the drummers remember who they are as a community, she said, that they are "one."
During her career, Sandoval has played with some of the best rock musicians in the business. She still works with Stevie Wonder. Sandoval played in all-female bands growing up in California in the 70s and 80s.
Sandoval has also worked with teens at risk, prisoners, elementary school students, elders, special needs adults and at private festivals.
During this rhythm, the drummers get in a "pocket" or focus when they can't think of anything else, she said They are in a collaboration with the other drummers.
Sandoval has approximately 100 drums that she has bought or made from other old drums for her Free To Be Me Drum Circles, which she did for about 20 years in California.
On Saturday, March 11, from 12 to 2 p.m., Sandoval and a group of volunteers will hold another Free To Be Me Drum Circle at the Posse Ground Pavilion in Sedona. More than 100 participants turned out for the last one, she said.
Before childhood, people hear a heartbeat for eight to nine months, she said. People remember and yearn to hear that heartbeat again, Sandoval said.
The drumming event can change someone's life, even a child's, she said. When they are playing, they are focused, they in the "pocket," they are in "joy, jubilation. "We're all one."
She teaches the children and teens that when they are hurting themselves or cutting themselves, doing drugs or not listening to their parents, they are not in the "pocket."
"We need to help people, we need to help each other."
Sandoval said her drumming events have "been embraced immensely" in the Verde Valley.