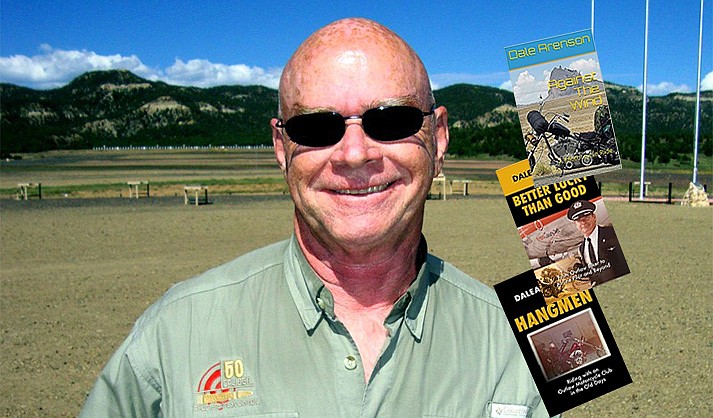 ---
---
Bestselling author Dale Arenson invites the Verde Valley community to an evening of inspiring words and celebration of life at Stardust Books (907 Main St, Clarkdale Az, 86324) on March 17, 2023, starting from 5 p.m. A champion of making the impossible, possible, the author will share inspiring stories from his life and take questions from the audience. He will also read in public for the first time excerpts from his upcoming book. The host of the event will be author A.G. Billig.
Dale Arenson is a bestselling author of gripping memoirs ignited by his risky and unconventional life. A high-school dropout in sunny Southern California, he found the supportive family he always craved as a member of the famous Hangmen Motorcycle Club. After many clashes with the law and close calls with death, Arenson abandoned his dangerous lifestyle. With remarkable tenacity and resolve, he recreated himself as a commercial pilot and had a flourishing career in aviation for 35 years. Ever ready to take on a good challenge, he eventually accomplished the feat of becoming a World Champion and Record Breaker Rifle Shooter.
Arenson, a great admirer of the likes of Plato, Hemingway, and Marcus Aurelius, is now striving to write books that captivate, motivate, and remain timeless.
Hangmen: Riding with an Outlaw Motorcycle Club in the Old Days, was launched in early 2021 and has since maintained its position as a number one bestseller in the Motorcycle History category on Amazon. Better Lucky Than Good: From Outlaw Biker to Airline Pilot and Beyond, chronicles the story of his early beginnings as an airplane pilot and the hurdles he had to overcome to make his dream a reality. For those wishing to explore America's back roads and its small-towns and their close-knit communities, Against The Wind: A Motorcycle Ride is the ideal read. Arenson's books are entertaining and also inspiring, keeping readers from around the world at the edge of their seats and inspiring them to pursue their dreams.
Arenson says, "Better lucky than good is a way to explain success when you didn't have a plan or goal early on. You hear all the time, You can do it! Based on the results in my life, I genuinely believe that. The funny part is that I just stumbled through life and succeeded, anyway. I want to share that story with you. If I can do it, you can do it."
Dale Arenson currently lives in Clarkdale, Arizona. Exploring the high-desert on his motorcycle, reading, and writing are his passions. For more details, visit DaleArenson.com.