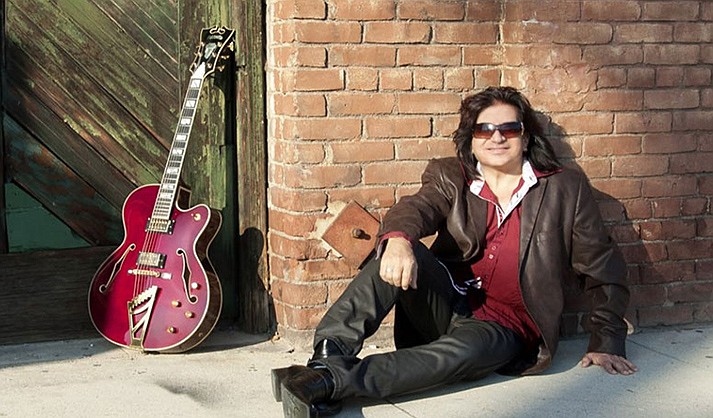 ---
---
Get set jazz lovers for a musical treat this weekend when jazz prodigy Aaron Blake hits the Sound Bites Celebrity Showroom Stage, Saturday, March 18, from 7 to 9 p.m.
With five albums under his belt and numerous smooth jazz hits Aaron brings to the stage a new energy and level of performance seen only in the top musical venues in the country.
Heading full-throttle into his second decade as a recording artist the multifaceted guitarist, composer, producer and media personality, has released his fifth full length CD, Color of Passion, which has spawned three No. 1 singles on Billboard.
Blake's lifetime experience with a wide array of musical styles and the intense fire and emotion of passion created through his soulful and expressive guitar playing and compositions shine each and every time he hits the stage.
"I've been blessed to have a career that has allowed me to work with so many amazing musicians and share my music with fans all over the world," says Aaron. "Artists often say they are most proud of their latest recording, but with Color of Passion, that's truly how I feel. It's the most expressive of who I am as an artist, representing the many different facets of the music I love and made me who I am. There's literally everything of me on this CD – my heart, blood and sweat, it's all in this record.
Blake's unique approach to the genre has made him a sought-after performer and collaborator, and his musical talents have earned him critical acclaim from audiences and critics alike.
Blake's playing style is characterized by its technical precision and emotional depth. He has a knack for infusing each note with a sense of raw emotion, creating a sound that is both technically impressive and deeply moving.
His compositions often explore themes of love, loss, and the human experience, and his performances are known for their ability to transport audiences to another world.
Blake is always striving to evolve his sound and approach to the genre. His passion for jazz is evident in everything he does, and his contributions to the genre will no doubt continue to inspire and influence musicians for years to come.
Blake has made a significant impact on the genre. His technical precision, emotional depth, and passion for the music have earned him a well-deserved place among the most respected musicians in the jazz world.
His upcoming show at Sound Bites Grill is guaranteed to thrall and enchant those fortunate enough to see him play live.
Sound Bites Grill is located at the Shops at Piñon Point adjacent to the Hyatt in Sedona. For more information please visit SoundBitesGrill.com or call 928-282-2713. Tickets can be purchased on-line via their website.