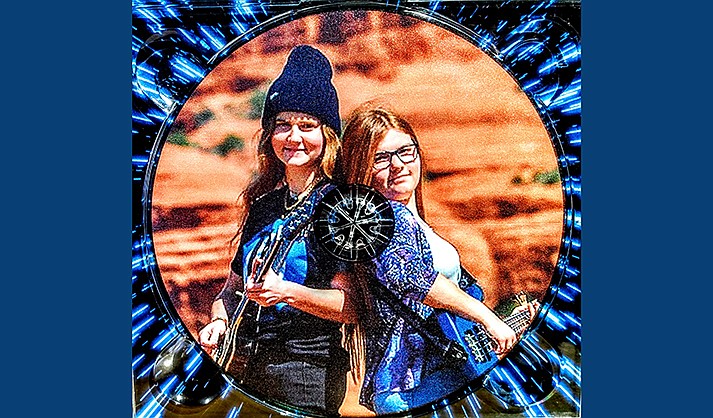 ---
---
The Sedona multi-instrumentalist sister duo Kaleidoscope Redrocks is proud and thrilled to announce the release of their first album titled, "Running Out Of Time."
They will perform all the songs from the album on Friday, March 17, 5:20 to 6 p.m. after doing cover songs including Irish and Scottish music celebrating St. Patrick's Day during their show from 3-6 p.m. at Vino Di Sedona's happy hour.
Gracie, 17 and Tivona, 13 have been diligently writing, rehearsing, performing and recording their original songs over the past year to produce their first CD. The Moskoff sisters shared playing guitars, drums, keyboards and vocals for this record, as well as writing the music and lyrics of the 35 minute long CD, composed of 9 original songs ranging from classic rock sounds to moving ballads with some Irish punk, patriotic pop and melody rap in the mix. "We really love all genres of music and wanted to experiment with different sounds to keep it more interesting and unpredictable," expressed Gracie and Tivona. "We're very grateful to our recording engineer David James at Mudshark Studios in Flagstaff for guiding us through the recording process as it was our first attempt to produce a record," say the sisters.
We shared our CD "Running Out Of Time" with our favorite American and Arizona musicians and our favorite Sedona music booker for their opinions. Here's what they said about it:
Drummer Trey Alfaro of the national and international touring alternative country band the Vandoliers from Texas says, "Kaleidoscope Redrocks really know how to get their point across on their debut album, "Running out of Time''. Gracie and Tivona express themselves in a way where you stop what you're doing and listen. As their songwriting captivates every audience, this tells me one thing… the future looks bright for Kaleidoscope Redrocks."
Arizona musician Stefani Savage, formerly of Las Vegas, of the Prescott based rock duo STEFnROCK states, "Gracie and Tivona did a great job on this CD. My personal pick is "21 Hours". To me it's like Alanis Morrisette meets the Broadway stage. I believe this is a "rise from the ashes" tune drawn from the girls' personal experience. It's gritty with lots of attitude and my favorite track on the CD. Great job ladies!"
Rebecca Schemmer, Sedona local, originally from Chicago, co-owner and music booker of Vino Di Sedona wine bar writes, "Easily the best first release I've ever heard. The hard work and passionate dedication to life and music shines in every song on Running Out Of Time!"
KR's mission "To make people good" was adopted as a result of their experience volunteering for a hospice in Phoenix playing at group homes, assisted living and skilled nursing facilities. "We hope our music makes you good" expresses Gracie and Tivona and continue with "part of performing has always been to volunteer and fundraise for worthy causes, because that makes us good too!"
So, KR will be grateful for the support from our beautiful community by you attending the Album Release Party show on St. Patrick's Day from 3-6pm at Vino Di Sedona, their musical home! Vino Di Sedona located at 2575 AZ-89A in West Sedona is a retail store and wine bar with the area's best selection of fine wine and pleasantly priced craft beer always paired with fantastic food and the best outdoor pet and family friendly patio.