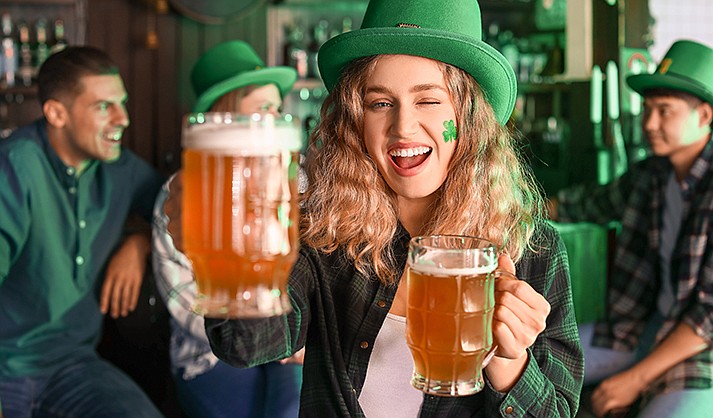 ---
---
NIGHTLIFE & MUSIC
10-12 Lounge
910 Main St., Clarkdale
928-639-0800
1012Lounge.com
Thurs 3/16, 5pm - Bluesy Duo
Fri 3/17, 7pm - Javalina Highway
Sat 3/18, 2pm - Well Dressed Wolves
Sun 3/19, 2pm - Menagerie
Tues 3/21, 5pm - Jeremiah
Calavera Mexican restaurant
747 S Main St, Cottonwood
(928) 634-9618
Sun Mar 19, 5-8pm - Open Mike. Signups at 4:30. All Skill Levels. Audience Welcome.
Dragonfly @Cliff Castle Casino Hotel
555 Middle Verde Road, Camp Verde
928-567-7900
Cliff Castle Casino Hotel is a No Smoking casino; we do have a smoking area near the front of the casino.
Live Music shows each Friday and Saturday. Shows start 9pm. Doors open 8:30pm.
Fri & Sat 3/17-18 - Variety • Apache Spirit
Mooney's Irish Pub
671 AZ-179, Sedona
928-282-2331
mooneysirishpubsedona.com
Open every day for lunch at noon. Always 21 and over only - Late night menu available
Thurs 3/16, 9pm-1am - Karaoke By Allstar
Fri 3/17 Saint Patrick's Day Party All Day! 12pm-4pm Sugar Moon; 4-8pm Martini & The Pope; 8pm Til Close Dj Split Cell
Sat 3/18, 8:30pm-12:30am - Local Honey Reggae Band
Mon 3/20, 8pm-12am - Karaoke By Allstar
Oak Creek Brewing Co.
2050 Yavapai Drive, Sedona
928-204-1300
OakCreekBrew.com
Fri 3/17 Tommy Rocks
Sat 3/18 TBA
Sun 3/19 - Randy Z
Old Corral Bar
11375 E. Cornville Road, Cornville
(928) 649-9495
Sat 3/18, 7pm - 11pm - Aces N Eights
Sun 3/19, 2pm - 6pm - Open Mic w/ Dan Rice
Sound Bites Grill
101 N. Hwy 89A, F29 Sedona
(928) 282 – 2713
SoundBitesGrill.com
Wed 3/15, 5-8pm, Wineaux Wednesday with Patrick Ki
Thurs 3/16, 6-9pm - Chill on the Hill with Eric & Robin Miller
Fri 3/17, 6-9pm - Poppy Harpman & The Storm
Sat 3/18, 6-9pm - Blake Aaron
Sun 3/19 5-8pm - Valerie Romanoff & Dreambeat
Vino Di Sedona
Wine & Beer Store/Bar/Kitchen
2575 W SR 89A
West Sedona
928-554-4682
VinoDiSedona.com
3/15 Paint Along For Fun 11:30-2; Rick Busbea, "Jukebox" Rock & Country 6-9
3/16 Open Mic hosted by Dan Rice 6-10
3/17 Kaleidoscope Redrocks-KR, Rock Duo, Album Release 3-6; The Gaelic Dogs, Celtic 7-10
3/18 Wine Tasting w/ music by Dave Clark 3-5:30; Dave Clark, Acoustic Rock 7-10
3/19 Luke & David Harvey, Classic & Modern Rock 3-5:30; Mark & Julia, Country & Classic Rock 6-9
3/21 K.B. Bren, Acoustic Originals & Covers 6-9
MUSICIANS
Javalina Highway
Friday, Mar 17 from 7 to 10pm at the 10/12 Lounge, 910 Main St. in Clarkdale
Kaleidoscope Redrocks
Gracie & Tivona Moskoff
Fri 3/17, 3-6pm, St. Patrick's Day Happy Hour
ALBUM RELEASE PARTY
Vino Di Sedona, 2575 AZ-89A, W. Sedona
Lyndsay Cross Wed 3/15th, Hilton Sedona at Bell Rock, 7-9pm
Thursday, March 16th. SaltRock Southwest Kitchen, Amara Resort Sedona, 6-9pm
Saturday, March 18th, Robbie's Restaurant, Rimrock, 6-8pm