---
---
Fifteen winemakers, five musical acts, more than 100 vendors and an untold number of nuts are highlights of the annual Pecan & Wine Festival set for Saturday and Sunday, March 18-19, in Camp Verde.
Saturday's events are from 11 a.m. to 7 p.m. on the Town's Community Center Field at 75 E. Hollamon St. On Sunday, events run from 11 a.m. to 4 p.m. The festival is free to attend.
The Verde Valley Wine Consortium is hosting the huge open-air wine tent with 15 local wineries providing a variety of wines and tastings. Enjoy wine by the glass or take a bottle home. Advance wine tasting tickets are available through Eventbrite.com. SRP and Yavapai College return as a Platinum sponsors.
The Homemade Pecan Pie Contest is accepting registrations. The pies will be judge in two categories – homemade crust and store-bought crust. They are judged in overall appearance, taste and creativity. The judging is Sunday at 2 p.m.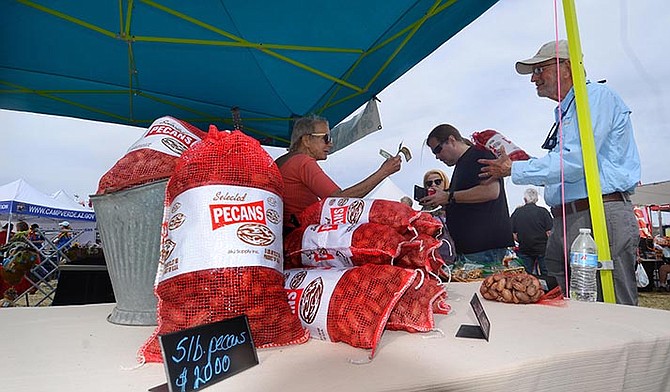 Register to participate online at CampVerdeSportSites/player or with paper forms at the Camp Verde Parks & Recreation office, 395 S. Main St. Buy your pecans at the festival Saturday and have your pie ready for the Sunday contest!
The two-day festival will have a beer garden, food trucks featuring Mexican, Greek, American and BBQ food with tacos, quesadillas, gyros, grilled cheese and good ole hotdogs and relish. Kettle corn, chocolate dipped bananas, frozen cheesecake and fruit kabobs are also choices.
With over 100 vendors, visitors can choose from many crafters including hand-made crocheted and sewn items, jewelry, candles, decorative and functional wood products, laser cut decorations and signs, metal garden art, chocolate and cheeses, decorative wine bottles and accessories, seasoning mixes and canned jams, jellies, and pickles. Non-profits and community groups will be doing fund raisers and community outreach. Don't forget the pecans, pecan pies, and pecan products for sale as well.
Working in cooperation with the Northern Arizona Blues Alliance, Camp Verde will have a great music line-up both days of the festival.
"The partnership with the Northern Arizona Blues Alliance really has improved our music line up," Parks & Recreation Manager Michael Marshall said. "The music is great, but I wouldn't know where to find it by myself."
Music begins at noon on Saturday with award-winning folk and blues guitarist Eric Ramsey. Eric has played in Arizona and surrounding states. The Tommy Dukes Band has been playing the blues for decades in Arizona and continues at 2:20 p.m. The day finishes with Thunder & Lightnin', who will take the stage at 4:20 p.m. This band has a grassy roots-Americana feel featuring banjo, fiddle, guitars and crisp three-part harmony.
Sunday music kicks off at noon with the return of Chicago Bob and the Blues Squad. This high-energy traditional blues band will get you up and dancing. Taking the stage from 2:15 to 4 is Sky Daddy, a diverse mix of country, rock, and Americana.
For more information, contact Camp Verde Parks & Recreation at 395 S. Main St. 928-554-0820, option 3, Parks@campverde.az.gov or VisitCampverde.com/events.