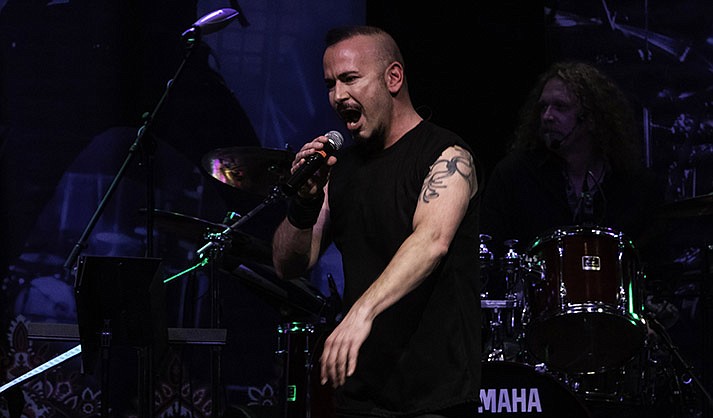 ---
---
Award-winning, world-renowned international countertenor Terry Barber brings his acclaimed live production 'Mercury: The Life and Music of Queen's Freddie Mercury' to Sedona and Cottonwood when he performs at the Mary D. Fisher Theatre and Old Town Center for the Arts.
There will be three performances March 17-19, presented by the Sedona International Film Festival — two shows in Sedona and one in Cottonwood.
'Mercury' is not as much a tribute to Queen as an exploration of the man's life and work. When Farrokh "Freddie" Bulsara was eight years old, his parents sent him thousands of miles away to a boarding school in India. The family saw each other once a year. The very shy boy Freddie felt very much alone and lonely. He developed a protective skin. In music, he started to find a way out. The bravado developed at school became a big part of his stage persona. Part broken man and part rock god, Freddie Mercury showed it all on stage, and left if all there.
In this new show about the man he reveres, Terry Barber sings Freddie's songs, and explores the conflicts between his personal and public lives revealed by his music. Barber shares the story of each song, and locates its place in Freddie's constellation of selves.
In the mid-80s, Freddie was diagnosed with HIV. Though at the beginning he publicly denied rumors about his condition, his bandmates knew long before the rest of the world. It was Freddie's determination to record and perform through his failing health that inspired guitarist Brian May to write 'Show Must Go On!' and 'Who Wants to Live Forever.'
'Mercury' stars international countertenor Terry Barber who, like Freddie Mercury, has a four-octave range. He was a longtime member of the Grammy Award-winning all-male a cappella chorus Chanticleer, and a Grammy nominee for his own album, 'Christmas Presence.' Barber's 'Reimagined Mercury' album was considered for eight Grammy nominations.
Barber has performed all over the world, including the Metropolitan Opera, Carnegie Hall and Moscow's Svetlanov Hall. His voice can be heard on many major record labels with a variety of music makers from Madonna to the London Philharmonic.
'Mercury: The Life and Music of Queen's Freddie Mercury' will be take the stage at the Mary D. Fisher Theatre at 7 p.m. on Friday, March 17 and 2 p.m. (matinee) on Sunday, March 19. The Cottonwood performance is on Saturday, March 18 at 7 p.m. at Old Town Center for the Arts. Tickets are $30 in advance; $35 at the door.
All tickets include a meet-and-greet with Terry Barber in the lobby after each show.
For tickets, please call 928-282-1177 or visit the film festival box office at 2030 W. Hwy. 89A, in West Sedona. For more information or to order tickets online, visit SedonaFilmFestival.org.