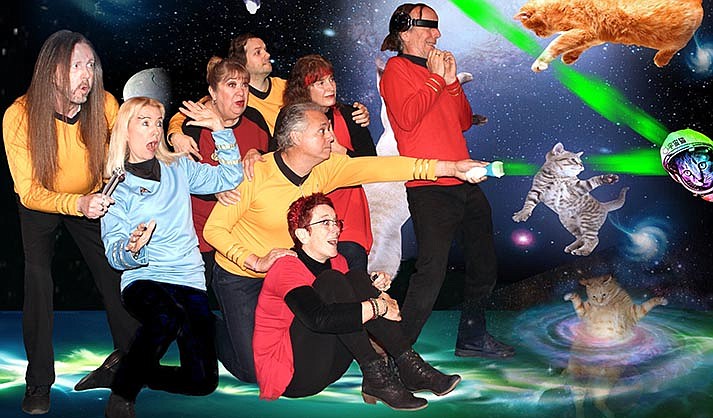 ---
---
Sedona's only Second City-trained improv troupe is back for their 15th year of hilarity. If you're a fan of Star Trek, space exploration or aliens, you won't want to miss this one-night-only performance on Saturday, March 18, at 7:30 p.m. at the Mary D. Fisher Theatre in Sedona. Tickets are $15. This show is likely to sell out, so order your tickets early.
"From Klingons singing a space opera to a PowerPoint presentation about an alien world created on-the-spot by audience members, we're going where no improv troupe has gone before," said Derek Dujardin, director of Zenprov Comedy. "This going to be one of our funniest, most imaginative shows ever."
Before You Go...
What: Sci-Fi Improv with Zenprov Comedy
Where: Mary Fisher Theatre in Sedona, AZ
When: Saturday, March 18 at 7:30 p.m.
Cost: $15
"I work with improv troupes all over the world, and Zenprov is one my favs," said Jessica Mitolo, associate artistic director at Second City in Chicago. "Since 2020, I've had the pleasure of coaching them through a creative renaissance. They are a true ensemble that inhabits that sweet spot of being both silly and insightful. A joy and treat not to be missed."
Zenprov Comedy is like the improvised TV show 'Whose Line Is It Anyway?' But the troupe performs both fast-paced short-form sci-fi improv games and a Chicago-style, long-from improvisation, including a 20-minute play that takes place entirely onboard a spaceship. Their mission? Whatever the audience says it is! Unlike sketch or standup comedy, nothing is rehearsed or scripted ahead. It's all made up in the moment.
The troupe taps into the rich source material that comes from living in a community steeped in spiritual seeking, UFOs, vortexes, psychics, radical vegans and endless roundabouts. So while Zenprov may start in the woo-woo culture of Sedona, their otherworldly performances are grounded in rock-solid improv work, inventive satire, and their constant search for truths hidden within the great Cosmic Giggle.
Zenprov Comedy troupe comprises Derek Dujardin, Shaeri Richards, Chris Redish, Nathaniel Montgomery, Shaunn Cochran, Betty Testa, Linda Roemer and Mary Carder.


This one-night-only performance is expected to sell out, so please purchase tickets early. Tickets are $15 and can be reserved at SedonaFilmFestival.com. Beer, wine and snacks are available at the venue.
The Mary D. Fisher Theater is located across the street from the Harkins Movie Theater at 2030 St. Rt. 89A. Doors open at 7 p.m. WARNING: Zenprov Comedy shows may contain adult material and are seldom morally, scientifically or politically correct; therefore, may not be suitable for children or overly sensitive adults. Visit ZenprovComedy.com to learn more and see a complete upcoming event schedule.