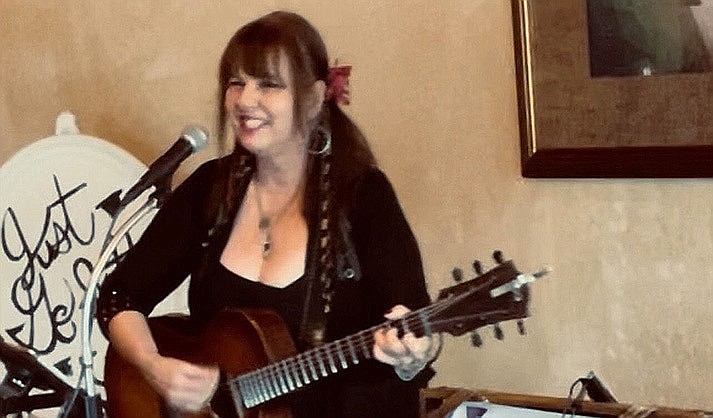 ---
---
10-12 Lounge
910 Main St., Clarkdale
928-639-0800
1012Lounge.com
Thurs 3/23, 5pm - Livas & Morgan
Sat 3/25, 2pm - Big Daddy D & Dynamites
Sun 3/26, 2pm - Verde River Station
Tues 3/28, 5pm - Javalina Highway
Calavera Mexican restaurant
747 S Main St, Cottonwood
(928) 634-9618
Sun 4/2, 5-8pm - Open Mike. Signups at 4:30. All Skill Levels. Audience Welcome.
Dragonfly @Cliff Castle Casino Hotel
555 Middle Verde Road, Camp Verde
928-567-7900
Cliff Castle Casino Hotel is a No Smoking casino; we do have a smoking area near the front of the casino.
Live Music shows each Friday and Saturday. Shows start 9pm. Doors open 8:30pm.
Fri & Sat 3/24-25 • Country • Stateline
Mooney's Irish Pub
671 AZ-179, Sedona
928-282-2331
mooneysirishpubsedona.com
Open every day for lunch at noon. Always 21 and over only - Late night menu available
Thurs 3/23 Karaoke By Allstar (9pm-1am)
Fri 3/24 Dj Provisions (8:30pm-12:30am)
Sat 3/25 Dj Split Cell (8:30pm-12:30am)
Mon 3/27 Karaoke By Allstar (8pm-12am)
Old Corral Bar
11375 E. Cornville Road, Cornville
(928) 649-9495
Fri 3/24 - The Salt Miners
Sat 3/25 - Flag5
Sun 3/26 - Karl Jones
RedWall Lounge
2130 Shelby Drive, Sedona
928-554-1033
Open Thurs-Sun 4-10pm.
Thursdays 3/23 and 3/30 - Cigar Night (4-10 pm) Specialty & RedWall Cigars available. RedWall Cigars are infused with our own bourbon and single malt whiskeys and barrel aged.
Sound Bites Grill
101 N. Hwy 89A, F29 Sedona
(928) 282 – 2713
SoundBitesGrill.com
Wed 3/22, 5-8pm, Wineaux Wednesday with Patrick Ki
Thurs 3/23, 6-9pm - Chill on the Hill with Eric & Robin Miller
Fri 3/24, 6-9pm - Dance Night with Scandalous Hands
Sat 3/25, 6-9pm - Esteban
Sun 3/26 5-8pm - Jazz & Juice with Dave Len Scott
Vino Di Sedona
Wine & Beer Store/Bar/Kitchen
2575 W SR 89A
West Sedona
928-554-4682
VinoDiSedona.com
Wed 3/22 - Paint Along For Fun 11:30-2; Rick Busbea, "Jukebox" Rock & Country 6-9
Thurs 3/23 - Open Mic hosted by Dan Rice 6-10
Fri 3/24 - Ron Skelton, Classic Rock 3-6; Gina & Al, Rock Duo 7-10
Sat 3/25 - Wine Tasting w/ music by Everett 3-5:30; Sister & The Sun, Contemporary Rock Duo 7-10
Sun 3/26 - Randy J, Surf Rock 6-9
Tues 3/28 - Sinatra Night w/ Bobby Myhre 6-9
MUSICIANS
Alive n Kikin
Sat 3/25, 4-7pm - Carlson Creek Vineyard, 1010 N. Main St., Cottonwood
Christy Fisher
Fri 3/24, 5-8pm - Winery 1912, Sedona
Sat 3/25, 5:30-8pm - The Arabella Hotel, Sedona
Sun 3/26, 4-7:30pm - Ciao Bella Restaurant, Prescott Valley
Javalina Highway
Fri 3/24, 6 - 9pm - The Belfry, 791 N. Main St., Old Town Cottonwood
Tues 3/28, 5 - 8pm - 10/12 Lounge, 910 Main St. in Clarkdale
Kaleidoscope Redrocks
Gracie & Tivona Moskoff
Fri 3/31, 3-6pm, Happy Hour - AZ Pug Party & Rescue FUNDRAISER at Vino Di Sedona, 2575 AZ-89A, W. Sedona
Lyndsay Cross
Thurs 3/23 - Low Places Bar & Grill, Camp Verde, 7-9pm
Fri 3/24 - Hilton Sedona at Bell Rock, 7-9pm
Sat 3/25 - Decanter Tasting Room, Village of Oak Creek, 7-9pm
Toucan Eddy
Sat 3/25 from 1 to 4pm at the Belfry, 791 N. Main St. in Old Town Cottonwood