Vietnam Memorial Wall to travel through Camp Verde this week

Originally Published: March 27, 2023 midnight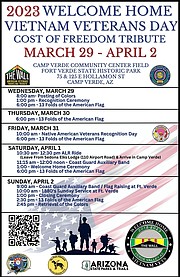 CAMP VERDE - As part of the 50th anniversary of the return of U.S. combat soldiers from Vietnam, Fort Verde State Historic Park is bringing the Vietnam Traveling Memorial Wall and the annual History of the Soldier event to the Verde Valley, in honor of the 2023 Welcome Home Vietnam Veterans Day and the Cost of Freedom Tribute.
The Traveling Tribute and Welcome Home Vietnam Veterans Day began in Sedona in 2012, and has been jumping around the Verde Valley since. It came to Camp Verde in 2014 and 2018, making this year the third year Camp Verde has hosted the tribute.
However, this is the first year the Memorial Wall has come to Camp Verde.
The Memorial Wall, which originated out of Texas, will be escorted from Cliff Castle Casino through Camp Verde on Tuesday, March 28, followed by the opening of the Memorial Wall and pinning ceremony to honor Vietnam veterans every 30 minutes.
Park Manager Sheila Stubler is incredibly excited for this event and hopes to see many community members out and supporting.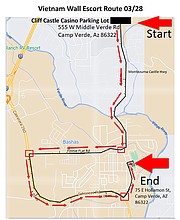 "When the wall is being escorted, any portion of the road that they will drive down, we want people to line the streets and show support with flags, banners or signs to officially welcome home these veterans," Stubler said. "I'm a personal believer in the healing that comes from these events."
From March 28 through April 2, the Memorial Wall will be available for public viewing at the Community Center Field, 75 E. Holloman St., in downtown Camp Verde.
In addition to the traveling tribute wall, there will also be a "Cost of Freedom" tribute devoted to those who served in all war periods.
"There are a lot of veterans that served in other wars and they need that healing too," Stubler said. "There is a lot of hurt and they should've been treated differently when they came back. We are trying to reach out to all veterans."
On Saturday, April 1, the Verde Valley Ride of Honor will begin in Sedona at the Elks Lodge at 110 Airport Road, traveling through the Verde Valley and ending in Camp Verde.
Stubler says her emotions toward this event are unimaginable, as it is an important event not only for the veterans, but for the community.
"I don't know what word I would use: excited, honored, or proud. I feel the best use that I can do is to be able to serve these veterans because of the service they gave to our country," Stubler said. "It's really a chance for the public to show appreciation for their service to our country."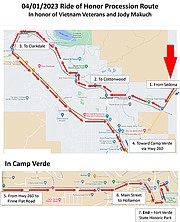 Stubler says this is part of a 10-year tribute throughout the Verde Valley, meaning this will be the last time the Welcome Home Vietnam Veterans Committee will host this event in Camp Verde.
This year is the first time nationally that there will be a Native American Veteran Recognition Day hosted by the Yavapai-Apache Nation on March 31 beginning at 10 a.m.
"There will be a tribal blessing, traditional cooking, dancing, and more," Stubler said. "This whole event will be much bigger than it has ever been before."
A flag-raising ceremony will be held at 9 a.m. with lowering ceremonies at 5 p.m. at Fort Verde State Historic Park from March 29 through April 1, and a lowering ceremony at 2 p.m. Sunday, April 2.
The History of the Soldier Military Timeline event will also be held at Fort Verde State Historic Park from April 1 through 2.
Stubler would like to thank all who donated, volunteered and helped with this event. She would also like to thank the veterans who served.
To make a donation to this event, visit CommunityCountsAZ.org.
Fort Verde State Historic Park has waived fees for the events from March 29 through April 2 to make the event as accessible as possible for attendees and show support for veterans. For more information on the event, visit VisitCampVerde.com/events.
---
-
SUBMIT FEEDBACK
Click Below to: