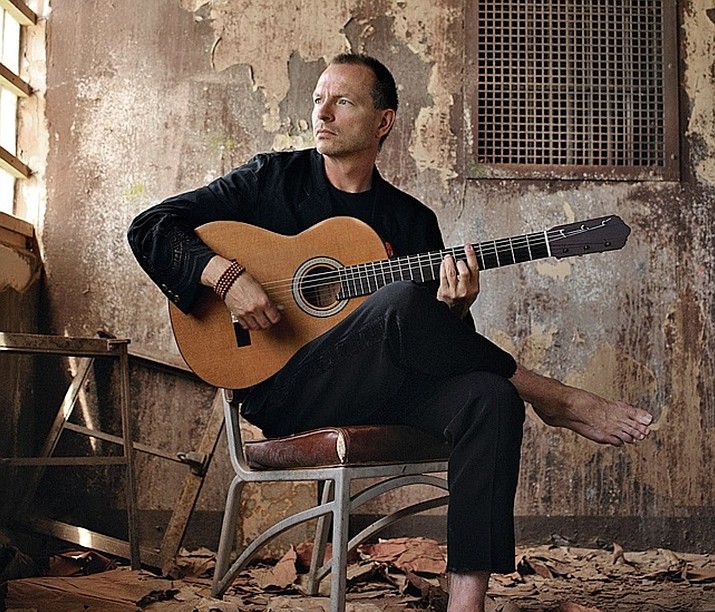 ---
---
Once again Sound Bites Grill brings to its Celebrity Showroom Stage yet another internationally renowned performing artist, featuring five-Grammy nominated stylist Ottmar Liebert and his band Luna Negra on Friday, May 5, from 7 to 8 p.m. and on Saturday, May 6, from 7 to 8 p.m.
Liebert is a world-renowned musician and composer who has won the hearts of millions with his unique blend of flamenco, jazz, and other world music styles. His music is characterized by its intricate guitar work, driving rhythms, and haunting melodies that transport listeners to faraway lands.
Born in Cologne, Germany, in 1959, Liebert began playing guitar at the age of 11. He was initially inspired by rock and roll music, but soon became interested in other styles, including jazz and flamenco.
He later studied music at the University of New Mexico, where he was exposed to a wide range of world music styles that would later influence his own compositions.
Liebert formed his band, Luna Negra, in 1989, and has since released numerous recordings and albums, including "Nouveau Flamenco," "Borrasca," "Opium," "La Semana," and "Dune." His music has been featured in numerous films and television shows, and he has sold over 2 million albums worldwide.
Liebert's musical style is a unique fusion of flamenco, jazz and other world music styles. He is known for his intricate fingerpicking technique and use of nylon-string guitars, which give his music a warm and intimate sound.
His compositions often feature complex rhythms and unusual time signatures, which reflect his love of world music and his desire to create music that transcends cultural boundaries.
Liebert's accomplishments as a musician are numerous. He has won multiple awards, including the Billboard New Age Award for Best New Artist in 1990, and has been nominated for multiple Grammy Awards. He has also performed for audiences around the world, including sold-out shows in Europe, Asia, and South America.
Liebert's musicianship and technical skills are renowned. He is known for his precise and intricate guitar work, which has been compared to that of legendary guitarists such as Paco de Lucia and Al Di Meola.
His ability to blend different musical styles into a cohesive and unique sound has also earned him praise from critics and fans alike.
Liebert's band Luna Negra is an essential part of his music. The band features a talented group of musicians who bring their own unique skills and influences to the music.
Luna Negra includes musicians such as Jon Gagan on bass, Dave Bryant on drums, and Marisa Kuney on violin. The band's ability to blend different musical styles and create a cohesive sound is a testament to their musicianship and technical skills.
Today, Ottmar Liebert continues to tour and perform for audiences around the world. He remains a respected and influential figure in the world of music, and his music continues to inspire and captivate listeners with its unique blend of flamenco, jazz, and other world music styles.
Whether performing solo or with his band Luna Negra, Liebert's concerts are always a mesmerizing and unforgettable experience.
This is one show Flamenco and World Music aficionados simply do not want to miss.
Sound Bites Grill is located at the Shops at Piñon Point adjacent to the Hyatt in Sedona. For more information please visit SoundBitesGrill.com or call 928 282 2713. Tickets can be purchased via their website.