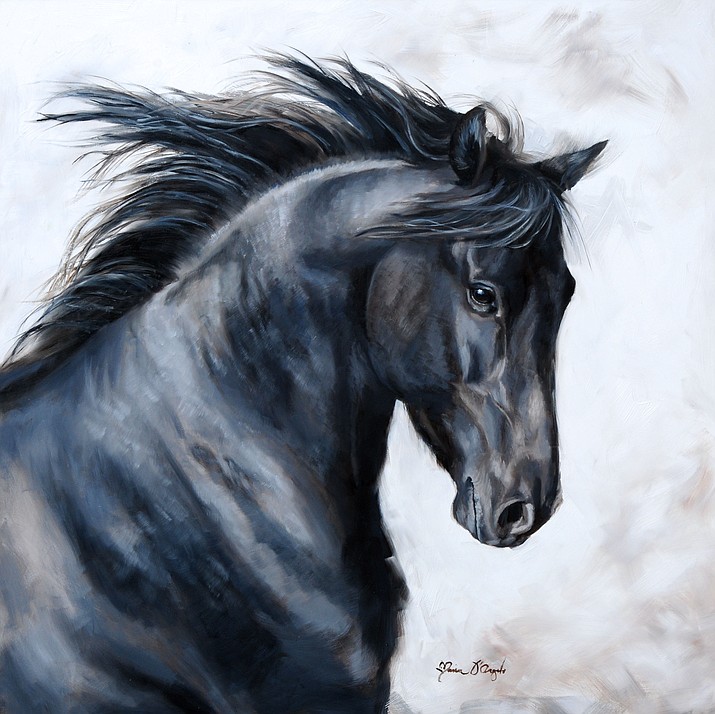 ---
---
Mountain Trails Gallery in the Village of Tlaquepaque is proud to present 'Horses & Friends' which opens on First Friday, May 5 with a reception from 4 to 7 p.m. The new exhibition features sculpture, paintings, and mixed media fine art that express the many ways in which a horse has achieved a place of honor in history and in our lives. From objects of sheer beauty to helping settle the West, as partners in ranch and farming, as interpersonal therapeutic assistants, as devoted companions, and as symbols of spirit and outstanding values, horses have earned their rightful place.
An artist that works closely with all aspects of the horse is East coast painter Maria D'Angelo who honors all horses that have an impact on equestrian lovers as she highlights that significance and importance in her oils and colored pencil paintings. In addition, Maria has access to striking athletic Thoroughbred horses from her area and has been known to paint a portrait on a registration certificate.
Mountain Trails Gallery is also proud to represent Arizona painter Shawn Cameron who continues in the lineage of her ranching family to appreciate not only the working horses but also those that have become valued for their friendship and beauty. Western artist Vicki Catapano, trained in the traditions of the Buckaroo, has created 'Merlin and Rooster' as a tribute to a legendary horseman that sat tall in the saddle in ability and reputation.

Sculptors Susan Kliewer and Deborah Copenhaver Fellows both know the value of horses to the ranch, but they also appreciate the spirit of the animal as each one of these award-winning artists capture the symbol of freedom with a flight of wild horses in bronze. Contemporary wildlife sculptor Mark Edward Adams pays tribute to this treasured subject in many of his bronzes as he shows the relationship of connection between the human and the equine world. Also, sculptor Dustin Payne carries his Western heritage forward with bronzes that celebrate many of the ways horses have been a part of the history of the West.
Artists who also know the history of the valued and honored Native American horses in battle, in negotiations, and in daily life include painters Steven Lang and Jean Hildebrant. The horse as a ranching partner also includes the traditional tonalist paintings of Simon Winegar as well as the oil paintings of the wide-open spaces of the West by contemporary artist Marcia Molnar. And, the colored pencil paintings by the remarkable Sandra Passmore Byland celebrate the unmistakable spirit of freedom in her colorful, multi-layered equine subjects.
Artists at Mountain Trails Gallery are proud to celebrate 'Horses & Friends' in this special show which opens on May 5, and continues throughout the month at their gallery located in Tlaquepaque Arts & Shopping Village 336 SR17, Suite A201 in Sedona.

For more information, email FineArt@MountainTrailsSedona.com, visit MountainTrailsSedona.com, or call 928-282-3225.