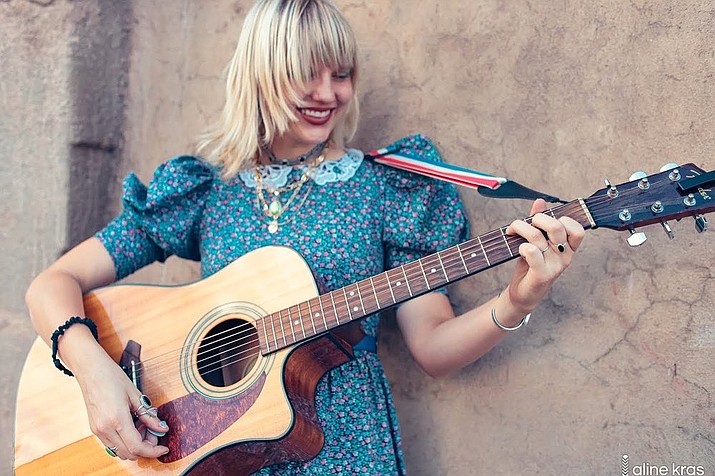 ---
---
It's time for Jerome's next First Saturday Art & Wine Walk, presented by the Jerome Chamber of Commerce. Over 30 galleries, shops, restaurants, and wine tasting rooms will be participating, with music in selected locations around town May 6 from 5 to 8 p.m. It's free, and a free shuttle will be provided.
Thunder & Lightnin' will be performing in the upper park. They deliver pure Americana, in a range of musical styles. Songs from their second album of original songs, "Call of the Wild," will be mixed with songs from artists like the Eagles, the Grateful Dead, the Nitty Gritty Dirt Band, and Alison Krauss.
Ezra Anderson, a singer-songwriter with a folk style that borrows from blues and jazz will be playing at the Jerome Artist Cooperative. He'll perform songs from his new album, "Arizona," along with covers of writers like Bob Dylan.
And look for Dani Boots, singing her indie-folk/soft rock inspired material in the outdoor patio in front of the House of Joy.
The Raku Gallery has been representing artists in Jerome since 1988. The works of over 200 artists are on display in the spacious gallery, with paintings, ceramics, freeblown glass, jewelry, sculpture, and furniture. The Firefly Gallery has a simple theme, "Inspired by Nature." Wall art, hanging art, yard art. Metal and glass sculptures. Clocks. Lamps. Blown Glass. Ceramics. Bells. Chimes. And Zapotec weavings and pillows. It's easy to be captivated here.
Mimi Doggett Romberger and her husband Chuck, operate Mimi's Gallery & Open Studio and The House of Joy Art Gallery, based on her creativity and relationships. You've seen her work. She was a leading figure in the art, design, and game evolution in California with Atari, Accolade, Apple, Sega of America, Lucas Learning, and Cisco Systems. She designed characters, animations, and interactive interfaces for the first Atari Mario Brothers game (appropriate now with the hit Mario movie). She paints and hosts guest artists in her studio. And the gallery hosts accomplished artists, such as fellow Jerome resident, Michael Gallagher, who created multiple issues of Sonic the Hedgehog, Mad Magazine, and Guardians of the Galaxy.
Many shops in Jerome represent artists. Vino Zona, the curated Arizona wine tasting room, proudly shows the work of Mark Hemleben, the noted plein-air painter who built quite a following during the many tears he maintained a studio in Jerome. The Cabal Cellars tasting room represents Jessica Laurel Reese, who does stunning steel sculptures she characterizes as fabricated welded steel drawings for the wall.
And there's the Jerome Artist Cooperative Gallery, with 35 local artists, working in every medium – painting, jewelry, clothing, ceramics, woodworking, and glass since 1896. The co-op has been a cornerstone of the arts scene in Jerome ever since. Everyone working there is a partner artist.