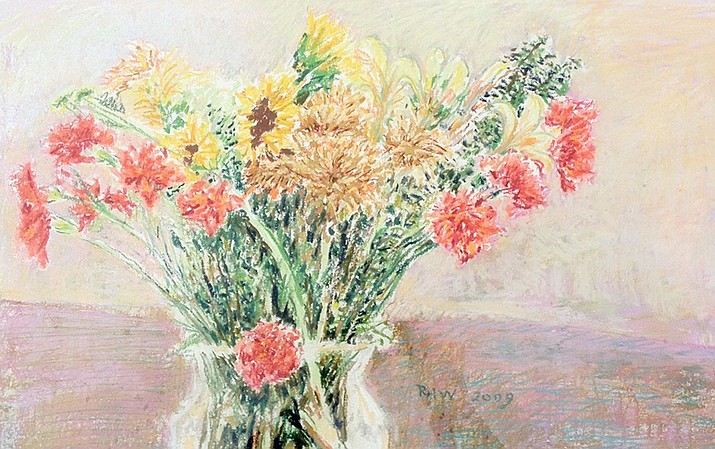 ---
---
Few artists can claim to have had a career as long and rewarding as Ruth Holland Waddell's. Now in her 98th year, her current work in progress is a pastel painting of springtime trees near her rural studio. "They change each day as their leaves come out, and the process is spectacular!", she notes.
The Sedona Renegades Artist Group is pleased to present Ms. Waddell as the group's honored guest artist in May. She will be displaying an engaging sampling of her works during the month at the Sedona Center for Harmony and Enrichment in Hozho Center. The public is cordially invited to chat with her and view her works at the venue's First Friday reception on May 5 from 5-7:30 PM.
Ruth Waddell was born in Chicago over 97 years ago, and her life has been enriched by art from the very beginning. Her mother was a pianist and a soprano, and her twin cousins Raphael and Moses Soyer were acclaimed painters whose works can be found to this day in major US museums. The artistic talents of Ruth and her three siblings were thus continually nurtured throughout their childhoods.
Ruth attended the University of Chicago and then studied at the school of the Art Institute of Chicago, which is also where she met her late husband, John Henry Waddell. After living in Mexico and Greece, they settled in the Verde Valley over 50 years ago and established a countryside studio dedicated not only to their own work but also to teaching and mentoring.
Now celebrated as a "matriarch of the Sedona art community", Ruth initially devoted much of her time to supporting the career of her better-known husband - but then, nearly three decades ago, returned to her own artistic pursuits. Her growing body of work is noted for evocative watercolors, pastels, oils, and ink and charcoal drawings and also includes some sculptures.
Ruth is still creating new artworks in a variety of genres, and she has no plans to stop. She reports that in addition to people, her favored subjects currently are trees and flowers. "These paintings can take a lot of time," she says, "because observing them and conceiving their forms are essential parts of my process."
Sedona Center for Harmony & Enrichment is a welcoming rental space for practitioners, artists, and event creators. In addition to the Renegades art exhibit, it hosts private sessions, classes, and lectures in a wide range of healing disciplines. For information on renting this space, contact Tatia Fick at (928) 554-1951 or visit www.SedonaCHE.com .
The Sedona Renegades Artist Group is well known for organizing exhibits in Sedona venues and has been in residence at SCHE since last year. Led by Jim Peterson, Carol Gandolfo, and Karen O'Donnell, the group features an outstanding guest artist each month plus many fine works by its distinguished member artists.
The Renegades include Jodie Ball, Carol Benally, Betty Dion, Carol Gandolfo, Rick Gandolfo, David Marsh, Kerani Marie, Karen O'Donnell, Jim Peterson, and Rafael Ramos. Their exhibit can be viewed in the heart of gallery row on the upper level of Hozho Center, 431 State Route 179, Suite A6, Sedona, AZ 86336. For more information, contact Jim Peterson at 602-828-7407 or Tatia Fick at (928) 554-1951.