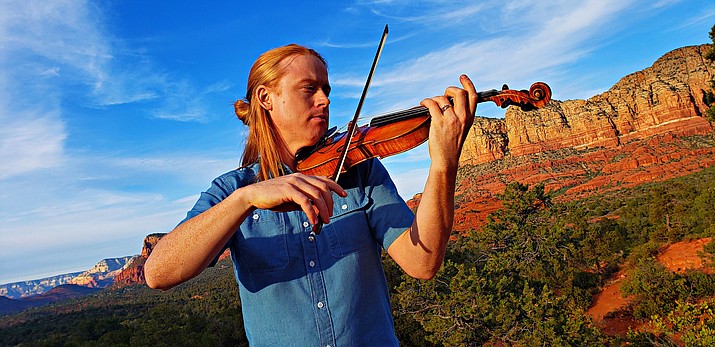 ---
---
Living Music has been featured internationally at festivals from Madrid to LA and was produced by BluPrint Films LA (Playground, George Clooney) and directed by Libby Spears (recognized in Newsweek's List '150 Woman Who Shake the World').
Film Festival Synopsis: When a promising young musician's career is nearly cut short after he loses his voice to a rare medical condition called spasmodic dysphonia, Tyler Carson must go on a rehabilitative journey of artistic experimentation and unconventional healing to find a new musical identity and redefine himself as a performer. By utilizing mindfulness and meditation, Tyler finds a way to heal despite being told he would never recover, and finds his place as an artist.
'The Sound of Sedona' concert event shares a hero's journey of individual perseverance, discovery and healing adventures. Tyler has been propelled by musical purpose as portrayed in detail through the film and then brought to life with a live performance by Fiddler on the Rock's signature multi-genre violin virtuosity. Through the evening you will experience the journey that took him from monthly botox injections in his throat, to lessons with Michael Jackson's singing coach and from India to A-list celebrity house concerts, altogether illuminating illness as an opportunity instead of an unending struggle. Uplifting, inspiring and healing, 'The Sound of Sedona' will wrap you in the hopeful promise of success through adversity and remind us all that the "impossible" is only a bold step yet to be taken.
*Film is 20 min long followed by a 60 min concert and Q&A. Suitable for all ages.
Audience members will have opportunity to move and dance and even to learn some of the same skills Tyler developed to heal his voice after graduating from Lagara University 3 year Integrative Energy Healing Program, a continuation of Barbara Brennan's famed school of full spectrum healing and her book 'Hands of Light'.
The concert features Tyler as a 'one man symphony' of sound, thanks to the special effects and live recorded 'looping' that he utilizes to build layers of rocking and deeply moving 'Living Music'. Along with his original music and often spontaneous live creations that flow from the energy of the audience and moment, you may hear songs like 'All Along the Watchtower' (Jimi Hendrix), 'Hallelujah' (Leonard Cohen), and even amazing mashups like 'The Lion Sleeps Tonight / Lion King Medley', Taylor Swift's 'Blank Space' / Disney's 'I can Show You the World' or 'Amazing Grace / House of the Rising Sun'. All of these songs are remixed and arranged by Tyler as astonishing solo violin pieces that have organically emerged from his genre called 'Living Music'.