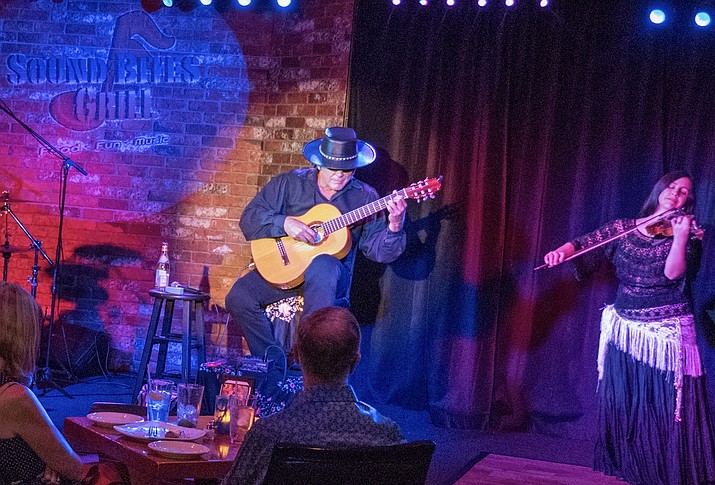 ---
---
It's Mother's Day in Sedona and Sound Bites Grill celebrates this wonderful tradition with a weekend of great music and fun.
Kicking off the celebration, its renowned flamenco guitarist Esteban performing on the Sound Bites Grill's Celebrity Showroom stage on Saturday, May 13, 7 to 9 p.m.
On Mother's Day itself, Sunday, May 14, it will be Michael Lucarelli on the musical roster from 12 to 3 p.m. and local favorite Patrick Ki from 6 to 9 p.m., with the Sound Bites Grill regular menu offered along with Mother's Day specials. The restaurant will be open from 11 a.m. to 9 p.m.
Over the years, Esteban has mesmerized audiences with his virtuosic playing and soulful style. He has released numerous albums and performed at some of the most prestigious venues worldwide, including the Kennedy Center in Washington, D.C. and Carnegie Hall in New York City.
Joining Esteban on stage is his daughter Teresa Joy, who is an accomplished musician and a master of the violin.
Her music blends flamenco with elements of pop and rock, creating a unique sound that is uniquely hers. Teresa has released several albums, including "Journey" and
'Soul Surfer.'
Esteban and Teresa have performed together at various venues around the country, showcasing their incredible musical talent and captivating audiences with their heartfelt performances.
Their dynamic duo is sure to delight music lovers at Sound Bites Grill, where they will showcase their amazing skills in a night of music, food, and fun.
It's a chance to witness two of the most talented musicians in the flamenco genre, bringing their unique blend of passion, energy, and creativity to the stage.
Patrick Ki is an established local favorite, known for his virtuoso performances on guitar and ukulele. He charms his audience with his laid-back attitude and smooth renditions of the classics.
He is a regular performing musician in Sedona and is loved by his many followers and fans. He has recorded numerous CDs and radio play of his compositions
Michael Lucarelli is a finger-picking style guitarist with a great command of lyrical movement and artistic expression. He is known for his diverse and expressive style, blending rock, popular, jazz, classical and Latin, as well as original compositions.
Sound Bites Grill is a wonderful atmosphere for live music lovers. The venue boasts a Celebrity Showroom stage that is perfect for intimate performances, where diners can enjoy delicious food and drink while soaking up the entertainment.
Apart from its music offerings, Sound Bites Grill also boasts an extensive menu featuring gourmet food made from fresh, locally sourced ingredients. From signature cocktails to craft beers, the venue has a wide range of beverages that cater to all tastes.
And let's not forget the 'Sir Harrison Blues Band' playing 6 to 9 p.m. on Friday, May 12. This band is known for its command of the Blues and extraordinary performances by band leader and lead guitarist Sir Harrison Begay. True Blues aficionados are in for a real treat when catching these talented performers play.
Sound Bites Grill is located at the Shops at Piñon Point adjacent to the Hyatt in Sedona. For more information please visit SoundBitesGrill.com or call 928-282-2713. Tickets can be purchased via their website.