---
---
Nicholas Osborn, sophomore at Mingus Union High School, took first place in the 41st Annual Youth Arts Scholarship Competition at the Prescott Center for the Arts.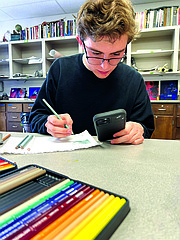 This competition required students to submit a body of three to five works of art, with awards being given to students based on the overall quality of all the artwork submitted. There were over 130 student portfolios submitted, from half a dozen schools across Yavapai County. This competition was only one of several end-of-year art shows the art students at Mingus are participating in. Nicolas is an intermediate art student in Beth Detwiler's classroom and an all-around high achieving student at Mingus.
"Nick is an extremely hard-working and academically accomplished young man and a worthy recipient of this award," Detwiler said. "He is a bright and caring individual who stands out in a crowd. He is part of the Art Club, the Interact Club and serves as a volunteer in the Children's section of the Cottonwood Public Library. He has a meticulous style and approach to his work, with a high standard of professionalism and excellence for his age."
He is described as a genuinely creative soul with a creative heart of gold by photography teacher Oouida Dorr, and a sweet, smart, studious, loyal and kind person by his friends.
"Nicholas is the type of student that is the true exception in the Art room," said Jason Teague, MUHS art teacher who taught Nicholas in his freshman year. "He came to me with natural talent, but also the drive to learn and to improve. He works tirelessly to create the highest quality works of art. His dedication shows in the work he creates and is exactly why he earned this recognition."
Nicholas' work is displayed in the Suze's Prescott Center for the Arts Artist Lounge, along with the work of other winners at the Visual Arts Scholarship Competition Exhibit. The exhibition is open through Saturday, May 13, from 11 a.m. to 3 p.m. at the Artist Lounge located at 208 N. Marina Street, Prescott.