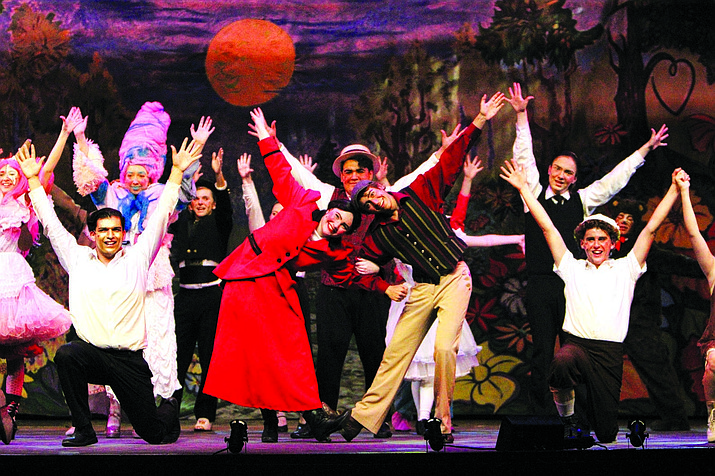 ---
---
The Arizona High School Musical Theatre Award nominees were announced April 28, and Mingus Union's A.T.O.R.T. had a finalist in ten of 11 categories. The annual awards honor the best musicals and musical performances of the year among 25 high schools of all sizes in central and northern Arizona.
A.T.O.R.T. produced 'Mary Poppins' this year, and students in front of and behind the curtain have been nominated for their work.
A panel of judges attends performances around the state in fall and spring to see the participating shows. The judges decide the finalists and choose the ultimate winners. Those winners will be announced at an awards show Saturday, May 27, at ASU Gammage.
The show will feature performance highlights from all the participating musicals, giving the high school students the opportunity to perform on the professional stage.
This year's Mingus Union AHSMTA finalists:
MUHS Hair & Make-up Crew, Melissa Perez and Mia Martinez
MUHS Costume Crew, Addi Hughes and Lydia Collins
MUHS Set and Props Crew, Ileana Escobar
Best Dance Ensemble, 'Step in Time,' choreographed by Carla and Stephen Renard
Best Supporting Actress, Jasmine Fang
Best Supporting Actor, Riley Rathsman
Best Vocalist, Mekenzie Combs
Best Lead Female, Sarah Lacher
Best Lead Male, Lazor Lanson
ASU Gammage Leadership Award, Sarah Lacher
Each year, the winners of the categories for Best Female Lead and Best Male Lead are automatically nominated for the Jimmy Awards, which are national high school awards presented in New York City at Broadway's Minskoff Theatre.