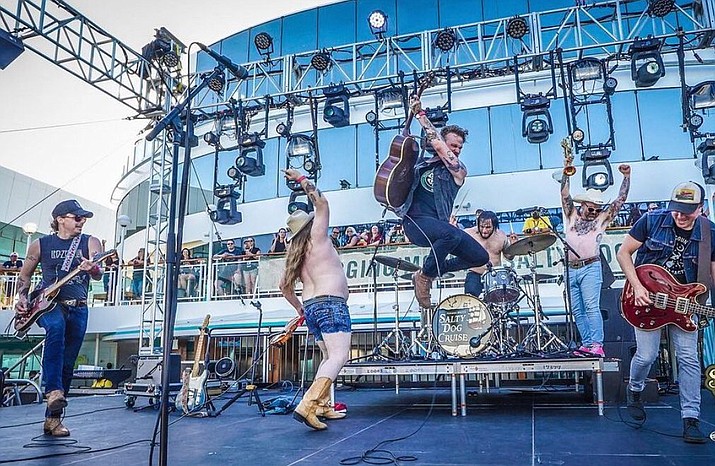 ---
---
The Sedona multi-instrumentalist sister duo Gracie and Tivona Moskoff, known as Kaleidoscope Redrocks, who have recently released their first album/CD titled, Running Out Of Time receiving high marks for this initial effort, are opening for the "boys from Texas'' known as the Vandoliers. Josh Fleming, lead singer and guitar along with his brother Dustin on lead guitar, Trey Alfaro on drums, Mark Moncrieff on bass, Travis Curry on fiddle and multi-instrumentalist Cory Graves on trumpet, piano, harmonica and backup vocals round out the country punk band from Dallas-Fort Worth.
The boys are a national and international touring band making a stop for a show in Prescott before heading to Mexico for the Circus Mexicus Music Festival. Since going on tour with the famous Irish punk band Flogging Molly in early 2022, the Vandoliers have been on a steady and steep trajectory rising toward the top of the music world.
"We saw the Vandoliers open for Flogging Molly in March, 2022 in Phoenix and fell in love with them at first sight and sound", exclaim Gracie and Tivona, the ladies go on to say, "we made contact with Josh and Trey through social media since then and they always are responsive and encouraging. When we saw them again in Phoenix in late December, 2022 and asked if we could open for them if we could book a show, they said "definitely!" It is truly another dream come true!"
"We want to thank Rebecca Schemmer, the former owner of Vino Di Sedona, our musical home and Dan Kuklinski the music booker for the Vandoliers for arranging the show at Lyzzard's Lounge in Prescott located at 120 N Cortez Street as well as Lyzzard's Lounge owner, Russell Roberts," say the sisters.
Tickets for the 21+ Friday, June 2 show from 8-11 p.m. are only $20 to see both Kaleidoscope Redrocks and the Vandoliers. KR will kick off the show starting at 8 p.m. and the Vandoliers will take the stage at 9:30 p.m. and perform one of the most entertaining and best shows you've ever seen!
So, to purchase tickets for the Vandoliers with Kaleidoscope Redrocks opening at Lyzzard's Lounge go to EventBrite.com and search Kaleidoscope Redrocks to purchase tickets. They are limited in number and will sell out fast! This is a special opportunity to see them at such a small, intimate venue.
Also, be sure to catch KR at the Jerome Music & Arts Festival on Sunday, June 11 from 11 a.m.-12:30 p.m.!