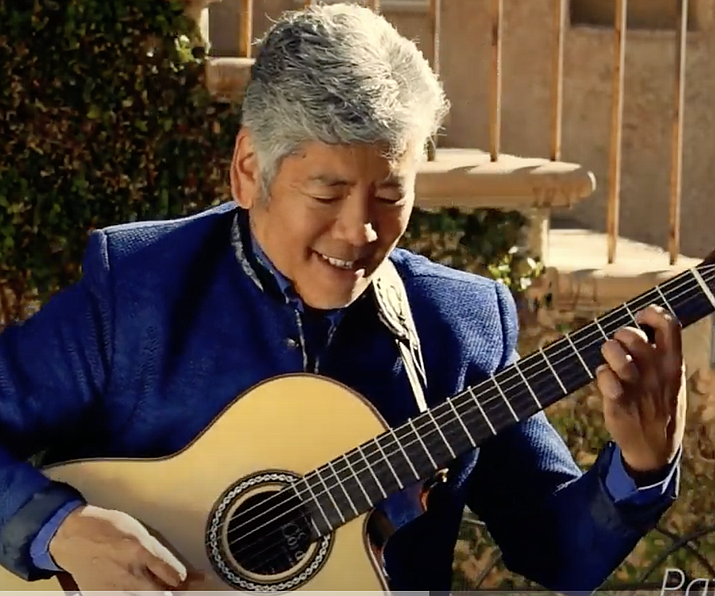 ---
---
Starting Wednesday, May 17, from 5 to 8 p.m., Sound Bites Grill kicks off its musical menu with Patrick Ki celebrating Wineaux Wednesday, a wine-tasting event.
Ki is one of the most prolific musicians in town. A virtuoso performer on ukulele and guitar, he never fails to deliver. Ki puts on a performance bound to captivate and entertain and often has other local musicians join him. For those that enjoy intricate guitar work and vocal harmonies, Ki and his friends capture the sounds of the Baby Boomer generation perfectly.
Next up, on Thursday, May 18, from 6 to 9 p.m., it's Chill on the Hill with father and son duo Robin and Eric Miller. Robin and Eric play with the precision only musical family can deliver. Their music spans the generations and captures the spirit of all those who love the classics played with fervor and passion.
On, Friday, May 19, from 6 to 9 p.m. Eric Miller puts on his rock 'n' roll shoes and gets down to party with Eric Miller Band bandmates Eddie Barattini on drums, Chris Counelis on sax and Troy Perkins on bass.
On Saturday, May 20, from 6 to 9 p.m. Sound Bites Grill features, Scandalous Hands, a fusion rock band that knows how to rock, playing music from The Beatles, Steely Dan, Allman Brothers Band, Led Zeppelin, original tunes and more. This four-piece band plays contemporary versions of rock standards, taking them to unfamiliar new heights as they jam out into the stratosphere.
Every Sunday Sound Bites Grill features its "Jazz & Juice event where patrons get to hear the best jazz Sedona has to offer, a great meal and a bottle of wine of their choice at half price with the purchase of two entrees, providing the wine is priced under $80.
This Sunday, May 21, from 6 to 9 p.m. Sound Bites Grill features saxophonist Chris Counelis, a true master at his craft. Versatile, engaging, talented and inclusive, this musician plays to the audience, especially for those who love jazz.
Come hear him play and enjoy quality wine chilled in cool jazz.
Sound Bites Grill is located at the Shops at Piñon Point adjacent to the Hyatt in Sedona. For more information please visit SoundBitesGrill.com or call 928-282-2713. Friday and Saturday nights there may be a cover charge. See website for details.