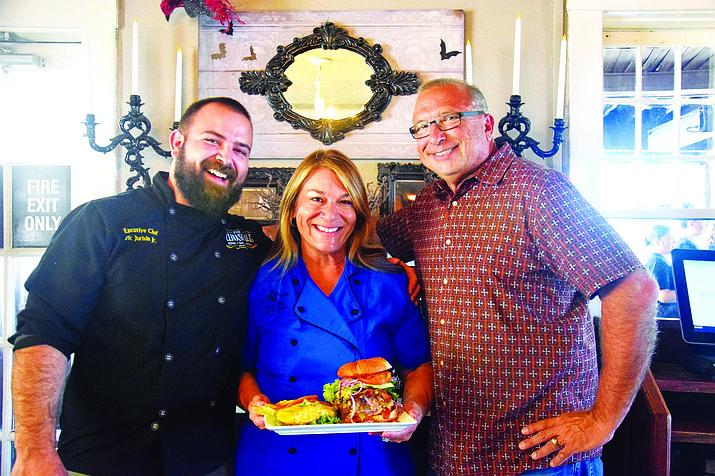 ---
---
Eric Jurisin and his wife Michelle may be the busiest business owners in the area.
Owning Haunted Hamburger, Grapes Restaurant & Bar, Nic's Italian Steak & Crab House, The Tavern Grille, Pizzeria Bocce, Strada @ Bocce, Crema Craft Kitchen & Bar, The Tavern Hotel, and The Clinkscale, Eric and Michelle are constantly traveling between Cottonwood and Jerome to keep their businesses running.
The Jurisins are also celebrating multiple awards received for outstanding food and service at their various locations this year.
The Haunted Hamburger in Jerome just won "Best Burger in Arizona" by Ranking Arizona for its namesake burger, topped with bacon, cheddar and Swiss cheese, mushrooms, green chilies, grilled onions and guacamole.
"We are pretty excited about this one because that's a big thing in Arizona," Eric Jurisin Sr. said. "It's our second consecutive year winning now, and the burger's birthday just passed on May 3. The burger is now 29, going on 30."
Clinkscale, located just down the stairs from Haunted Hamburger in Jerome, has just won 'Top Ten Diners' Choice Restaurants for Arizona' by OpenTable and was rated seventh out of 100 best restaurants in the Southwest by Yelp.
"Clinkscale is our big one that we are really excited to get," Jurisin said. "We made it in the top 100 in the Southwest, which includes Las Vegas, New Mexico, Phoenix… and we're seventh!"
Pizzeria Bocce in Cottonwood also received an award for third best pizza restaurant in Arizona and 68th in the United States and Canada by Yelp.
Jurisin said he is thrilled and shocked to be receiving awards for his various restaurants.
"It's super surprising to be recognized in the small towns that we operate in," Jurisin said. "We're not exactly sure what we are doing in terms of how we are getting the recognition, but we are not going to deny it because it's good for business."
Jurisin said if it weren't for his hard-working staff, none of these awards would have been received.
"I think a big part of our success is that so many of us have been together for so long," he said. "We've started to read each other's way and we're a pretty well-oiled machines on most days."
In exchange for his staff's hard work, Eric and Michelle give their employees various health benefits, an extra week of sick pay, holidays off, and host a yearly party of roughly 600 people, completely paid for.
Last year, they hosted their 286 employees and their dates at Cliff Castle Casino for an all-inclusive night of fun. This year, Eric said, the yearly party will be at the same venue to accommodate all of their guests.
"We are a people-business. The hamburger doesn't cook itself. It comes down to who cleans the plate, who cooks the burger, and who served it to you," he said. "The buildings are just shells for us to operate in. You have to take care of your people. The employees are the most important tool."
Looking ahead, it is only onward and upward for Eric, Michelle, and their two kids, who also play a role in the business production. As Cottonwood and Jerome are actively growing, their businesses are expected to flourish.