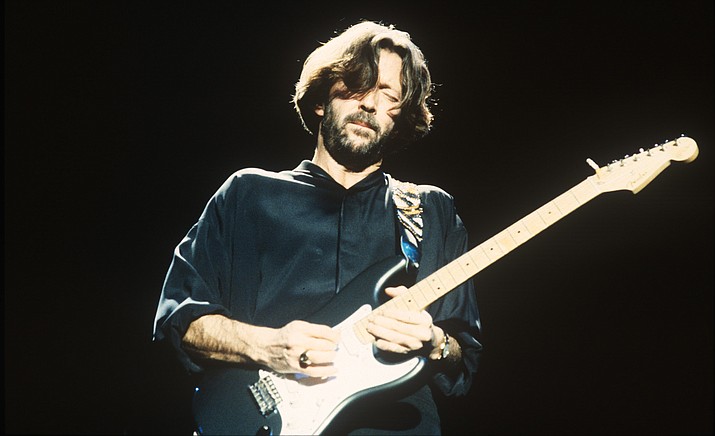 ---
---
'Monday Movies on Main' continues on Monday, May 22 with the Cottonwood premiere of 'Eric Clapton: Across 24 Nights' at 7 p.m. at Old Town Center for the Arts.
Relive the legendary Eric Clapton Royal Albert Hall 1990/91 residency, fully remastered in Dolby Atmos and 5.1 Surround Sound. Featuring a plethora of musical guests and 17 tracks from across his repertoire, this is a must-see on the big screen for Clapton legion of fans!
In 1990 and in 1991 Eric Clapton played 24 nights at the Royal Albert Hall performing with different line-ups and sets featuring Blues, Rock and a full Orchestra. The performances have become legendary to Eric Clapton fans.
Over thirty years later this film, edited from the original footage and completely remastered in Dolby ATMOS and 5.1 Surround Sound for the ultimate theatrical experience, captures for the first time the definitive performances across all the sets over both years.
The film features 17 hits from across his repertoire showing Clapton at his most exhilarating, collaborating with top musicians. There are unique versions – performed by Michael Kamen's orchestra or his Rock band - of longstanding hits including 'Wonderful Tonight', 'Layla', 'White Room' and 'Cocaine' as well as rare treats such as performing 'Knockin' on Heaven's Door' with Phil Collins. Meanwhile Eric's love of the Blues is expressed as shares the stage with legendary Blues musicians such as Albert Collins and Buddy Guy for classics such as 'Black Cat Bone' and 'My Time After a While.' An exhilarating compilation of Eric Clapton's legendary performances.
Tickets are $12 general admission and $9 for Film Festival members and $10 for students. Movie concessions will be available, including beer, wine, soft drinks, water, popcorn and a selection of movie candy.
For tickets and more information, please call 928-282-1177. Tickets can also be ordered in advance online at SedonaFilmFestival.org.
Old Town Center for the Arts is located at 633 N. Fifth Street (just off Main) in Cottonwood.