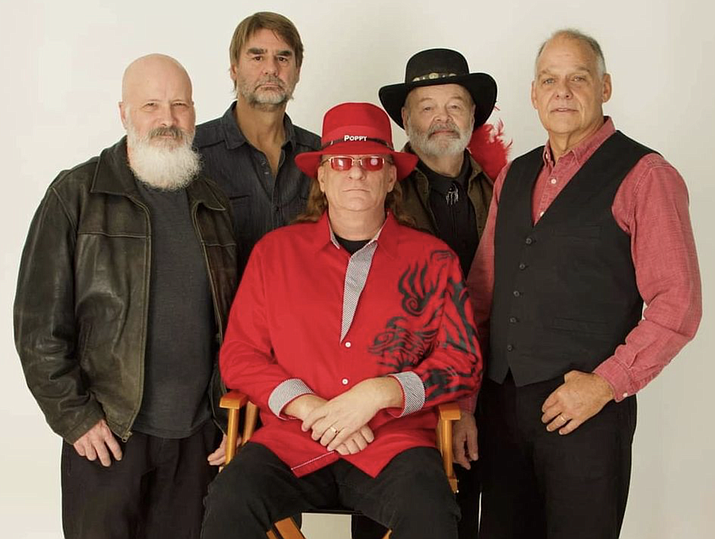 ---
---
They say the clues are the kind of music that makes you glad and sad at the same time, so strap yourself in blues aficionados for a treat that will get you feeling them blues like never before.
And what better place to hear them than at Sound Bites Grill with its beautiful lighting, professional sound system and a New York City supper-club-ambiance, that turn this upscale restaurant into the perfect venue to see, listen and dance to talented musicians, up close and personal.
On Saturday, May 27, from 6 to 9 p.m. its Poppy Harpman & the Storm, storming the stage, featuring front man and harmonica virtuoso Poppy Harpman, backed by lead guitarist Randy Magnuson, keyboardist Jeff Lucas, bassist Randall Hakke and drummer Mark Ulmer.
One doesn't play the blues. You feel them and that's what this band does oh so well.
Poppy's vocals are the personality and power that drives the band's hard-hitting songs. On stage His energy oozes off the stage captivating every member of the audience.
He has developed a reputation for 'getting crazy' and devastating audiences with his high-energy style of Rhythm & Blues and Rock & Roll which showcases Poppy's innovative harmonica playing.
Every member of his band is a powerhouse musician and performer in their own right, guaranteed to deliver a show everyone will remember long after it's over.
If you love the Blues, this is one show you don't want to miss.
On Saturday, May 26, from 6 to 9 p.m., Sound Bites shifts gears from Blues to Jazz, featuring the Chris Counelis Jazz Band.
Saxophonist Chris Counelis is a true master at his craft. Versatile, engaging, talented and inclusive, this musician plays to the audience, especially for those who love Jazz.
He will get off the stage during a song and play his sax for delighted audience members gifted with his personal aura and musical virtuosity.
He makes you feel like you and the music are one.
He grew up surrounded by jazz and Big Band music. And it shows. He studied at Berklee College of Music while still in high school and attended The University of North Texas for four years majoring in Jazz Performance before coming to Sedona and settling down in Red Rock Country.
Make note of this Jazz aficionados. Make it a point not to miss this awesome musical act.
The rest of the week features The Louis Landon Trio from 7 to 9 p.m. on Wednesday, May 24; and Chill on the Hill with The Millers from 6 to 9 p.m. on Thursday, May 25.
Sound Bites Grill is located at the Shops at Piñon Point adjacent to the Hyatt in Sedona. For more information please visit SoundBitesGrill.com or call 928 282 2713. Tickets can be purchased via their Website.