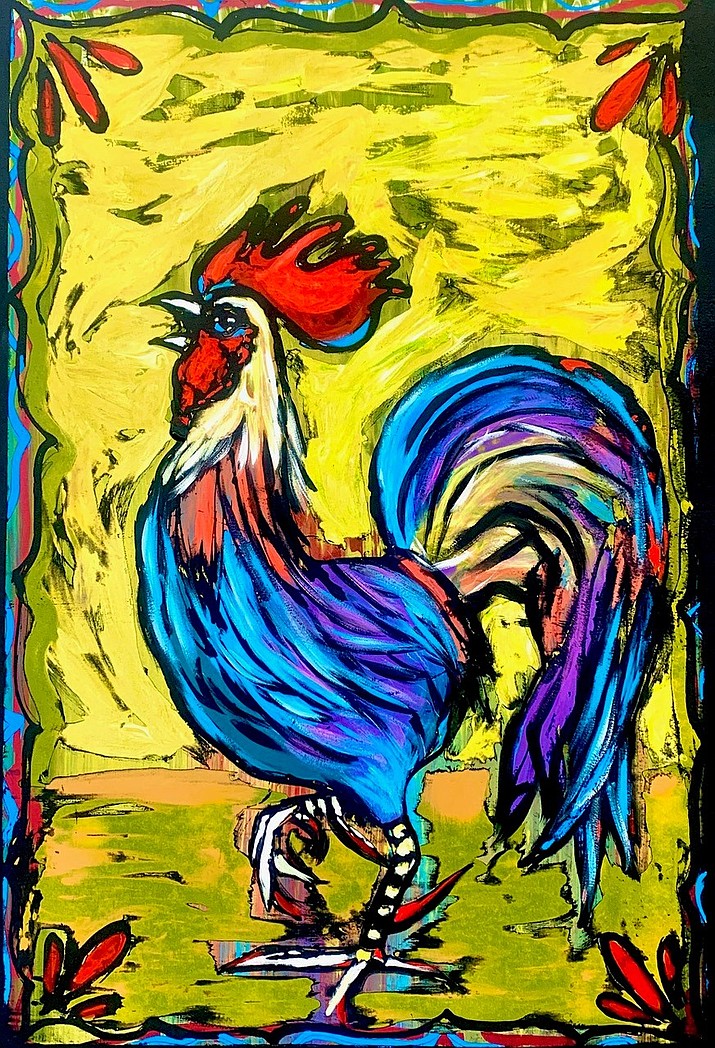 ---
---
¡Qué Hermoso!, a special exhibition has been extended through May 31 in the Special Exhibitions Gallery at the Arts Center due to its popularity. This unique exhibit features deeply moving imagery that celebrates Latinx cultural identity and traditions. Encompassing painting, drawing, printmaking, mixed-media, and photography, this vibrant exhibition highlights histories, familism, forgotten stories, and rich personal and collective experiences.
The exhibit features art by Marco Albarrán, Emily Costello, José Andres Giron, Noemí Alejandra Gonzalez, Gretchen Lopez, Gabriela Muñoz, Alejandro Soria, and Teresa Villegas and is sponsored by Isabel & David Simmer and AZ Humanities Council.
Marco Albarran is a Phoenix area based conceptual-multimedia artist whom interpretations highlight's thematic-symbolic representations of pre- & post-Colombian cultures, life and histories.

Emily Costello is a self-taught painter, printer and mixed media artist. Her art is inspired by her Mexican heritage, its cultural icons, imagery, and by the events that have shaped her life. Her art is strongly influenced by her grandmother and of the stories she passed onto her; stories that not only give place and meaning to our existence but also on the experiences that we all share; issues of identity, humor, life, love, death, spirituality, dreams and memories.

José Andrés Girón has been dedicated to art his entire life. Family and culture have influenced his choice of subject matter in deciding what is important to express in his art. His work almost always depicts the positive and the beautiful things of the Hispanic/Latino cultura. Andrés, as he likes to call himself, was born in Phoenix and lived next to the airport close to the Golden Gate Barrio.
Noemí Alejandra Gonzalez is a first-generation Xicanita storyteller. She works in Mexico and the US southwest focusing on personal identity narratives and social justice storytelling. She really likes clouds and finding faces in the mountains.
Gretchen Lopez is inspired not only by her love of painting, but from her ethnic heritage, teaching, and the world around her. After majoring in advertising and design, she went on to study fashion illustration at the Fashion Institute of Design and Merchandising in Los Angeles, then finished out her studies at The Art Center College of Design in Pasadena, California.

Gabriela Muñoz is an artist whose work is rooted in her experiences as a migrant who lived in Arizona, undocumented, for more than a decade. A Latinx woman living in the Southwest, her practice is concerned with movements of social justice and racial equality. Her installations, printed works and collaborations function as a growing archive that documents stories and histories of individuals from communities that are under resourced and underestimated.
Alejandro Soria, a visual artist born in Mexico, studied graphic design and graduated from Universidad de Monterrey before earning a master's degree at the Savannah College of art and Design in Georgia. In 2001, a successful brain surgery gave Alejandro a second shot at life, which ultimately led to the pursuit of painting.
Teresa Villegas is a visual artist, painter, printmaker, illustrator and graphic UI/UX designer, whose skills are multi–disciplinary. Her work has been seen in galleries and museums throughout Mexico and the U.S.. Best known publicly for her paintings – such as her installation called "La Loteria: An Exploration of Mexico" and her public art terrazzo oor design "Light, Love, Life" at the Terminal 3 Sky Harbor International Airport in Phoenix, Villegas nevertheless feels: "The world is what you make it, it's about creating and connecting, it's about the natural world and people, intentions and actions founded in well-being and universal love."
Sedona Arts Center is one of Northern Arizona's most well-established cultural organizations and serves as the creative heart of Sedona. Our mission is to connect, enrich, educate and lead through the inspiring power of the arts and creative discovery. Founded in 1958, the nonprofit is based in Uptown Sedona and offers year-round classes, exhibitions, festivals, and cultural events that enhance the creative life of the Verde Valley.
Sedona Arts Center is a 501(c)3 organization that offers all purchases without sales tax (an almost a 10% savings) Visit SedonaArtsCenter.org to learn more about one of Sedona's oldest community nonprofits.