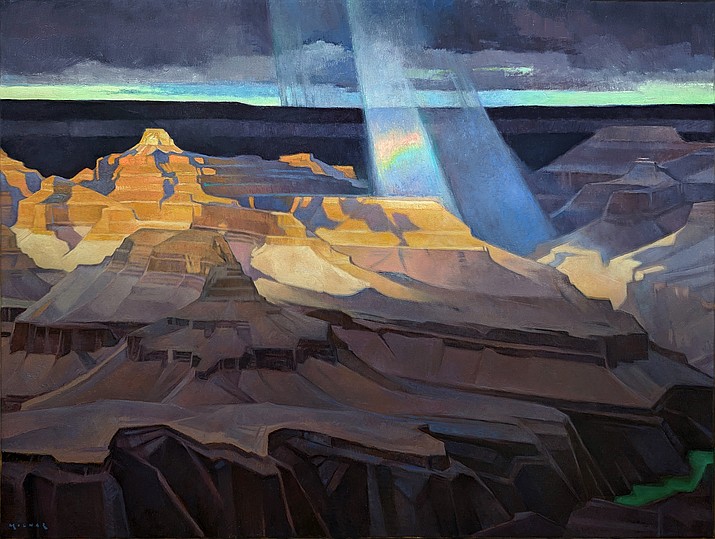 ---
---
This season is a time for gatherings and celebrations as Mountain Trails Gallery in Tlaquepaque opens their 'Summer Group Show' on First Friday, June 2 with outstanding paintings, sculpture and mixed media fine art by 40 award-winning artists. The exhibition will include a variety of mediums, styles, and subjects as each artist offers their talents and unique ways of expressing in a compelling lineup of work.
Along with the celebration, Mountain Trails Gallery is proud to announce portrait painting master Jerry Salinas has joined their Sedona gallery with remarkable oil on canvas works that form a perfect balance between traditional and contemporary styles. Creating his own approach of abstracted realism moving from hard edges to soft, and back again from lost edges to found edges, this artist has created his own rhythm and intriguing way of painting. A member of the Palette and Chisel Academy of Fine Arts in Chicago, Jerry Salinas now teaches at the Scottsdale Artists' School and has been honored with teaching at the Florence Studio in Florence, Italy.
This longtime destination gallery for fine art with an emphasis on painting and sculpture from the American West began more than 35 years ago in Tlaquepaque and continues to draw visitors and collectors from the region, across the United States, and from all over the globe. The gallery's roster of traditional and contemporary award-winning artists include those with ties to a variety of venues, exhibitions, and schools of fine art including such prestigious museums as the Briscoe Western Art Museum, Booth Western Museum, Gilcrease Museum, Phippen Art Museum, Cowboy and Western Heritage Museum, Museum of Indian Arts and Culture, Desert Caballeros Western Museum, Cowgirl Hall of Fame, Tucson Museum of Art, Leigh Yawkey Woodson Art Museum, Buffalo Bill Center of the West, National Wildlife Museum, as well as distinguished memberships in organizations such as the Oil Painters of American, Cowboy Artists of America, National Sculpture Society, Knickerbocker Association of New York, American Impressionist Society, American Women Artists, and many more.

Whether it is artwork that captures an expansive panorama from the Grand Canyon, an isolated visual during a magical moment in time, a colorful explosion in nature, wildlife in action, or remarkable people inspired from history, these artists tell stories as they see it. Many of the gallery's outstanding artists always knew their creativity was a calling to be an artist while others have achieved successful careers from a variety of sources of education, and most describe they have arrived where they are through the so-called 'University of Life' and some would even say from the 'School of Hard Knocks.' All the artists in this festive gathering have something in common and that is choosing positive choices as they create uplifting fine art, some with a variety of their own messages and others with the intention of simply bringing beauty and peace to an otherwise hectic world of information and visuals. The public is invited to join the celebration reception on First Friday, June 2, 4 – 7 p.m. at Mountain Trails Gallery located upstairs Suite A201, overlooking Patio de las Campanas in Tlaquepaque Arts & Crafts Village beside Oak Creek in Sedona. Exhibition continues through June. For more information, contact the gallery at 928-282-3225, FineaArt@MountainTrailsSedona.com, or MountainTrailsSedona.com.