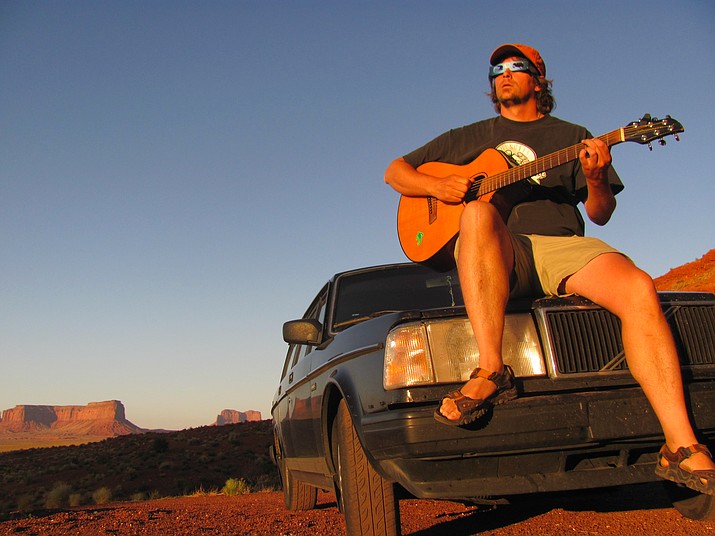 ---
---
Jerome's next First Saturday Art & Wine Walk will be this Saturday, June 3, from 5 to 8 p.m., presented by the Jerome Chamber of Commerce. Over 30 specialty shops, winery tasting rooms, restaurants, art galleries, and artist studios will be participating.
As the weather has warmed up, the evenings have become very pleasant, making it most enjoyable to stroll through the historic arts community. And, of course, music will be provided at multiple locations for the event.
Sister and the Sun have been delighting area audiences with their 'acoustic soul-rockin' folk music' for six years. They will be performing in the upper park.
Steve Estes will be providing his always entertaining versions of classic rock, reggae, roots, bluegrass, country, and just plain fun music by the Turquoise Spider on Main Street.
Matt Miller has been playing his unique baritone guitar all over the country for the past 15 years, employing live loops with flute, alto sax, and guitar to accompany his multiple music styles. Hear him on the Cornish Pasty patio on Clark Street.
The Strip Down Duo will be performing their versions of songs by a wide range of artists, from Tracy Chapman to Pink Floyd and from Radiohead to Neil Young and more. They'll be at the House of Joy patio on Hull Avenue. It's all free and a free shuttle will be provided.
Over 30 wine tasting rooms, specialty shops, restaurants, art galleries, and artist studios will open and participating in the Art & Wine Walk.
Among the unique shops is Nelly Bly, the largest and most unique kaleidoscope shop in the country. Their collection of kaleidoscopes, hand-crafted from wood, metal, and glass, provides a truly amazing new view of the world! And they teach classes.
Altai Leather is a working leather studio, offering handmade leather products such as wallets, purses, aprons, belts, cell phone holders, accessories, and custom designed leather goods.
Turquoise Spider is a fascinating southwest gift shop that specializes in Native American jewelry. They also feature a wide selection of souvenir items ranging from mugs to T-shirts and numerous collectables.
Mockingbird is a gift shop that specializes in the best of contemporary jewelry design from around the world, including those of the German design collective Niessing and Norbert Muerle and Berlin designer Carl Rau.
The Jerome Ghost Pepper Company offers a different kind of creativity for hot sauce, salsa, and barbecue sauce aficionados. Ghost peppers are the hottest in the world and are featured in this line of freshly made sauces along with habaneros, jalapenos, and a wide selection of mild, medium, and hot sauces.
And a must stop is the Rickeldoris Candy & Popcorn Company, a true old-fashioned candy shop that will bring out the kid in all of us, regardless of age.