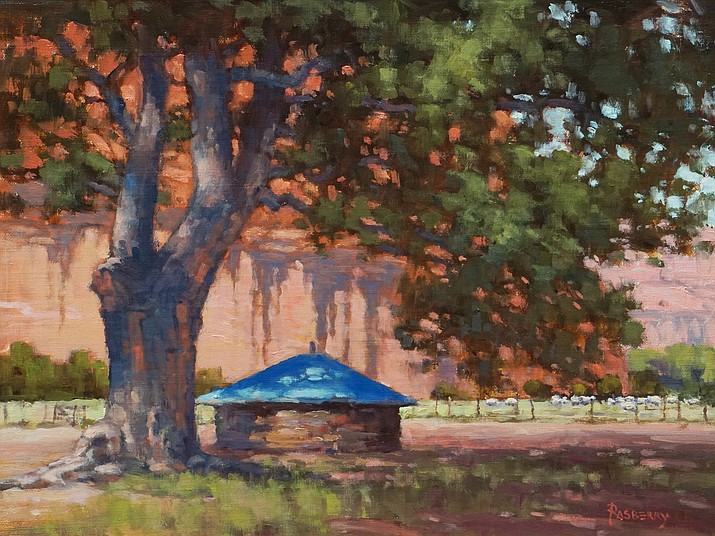 ---
---
It's always a treasure hunt at Rowe Fine Art Gallery, but once a year, those treasures can fit in the palm of your hand…or at least on any table or wall in your home. It's time for the gallery's annual small-works show, Itty, Bitty…and Oh, So Pretty! Whether you're shopping for holiday gifts, your space is limited or you're just beginning to collect art, there's something for everyone at this exhibit, which opens Friday, Nov. 3, at 4 p.m.
Itty, Bitty…and Oh, So Pretty! features tabletop-size sculptures, paintings that measure no more than nine inches by twelve inches and jewelry. Participating artists include painters Jen Farnsworth, Dane Chinnock, Kim Diment, Lynn Heil, Gary Jenkins and John Rasberry; and sculptors Shirley Eichten Albrecht, Kim Kori, Alvin Marshall, Ken Rowe and Joshua Tobey. The event will also showcase the work of the gallery's fine jewelers, Liam Herbert and Leslie Aine McKeown, who makes her gallery debut during Itty, Bitty…and Oh, So Pretty!
Based out of Prescott, Lesley has been creating jewelry since 1984. She specializes in traditional metalsmithing techniques and tools, crafting each piece of wearable art in her studio using precious metals (sterling silver, high-karat gold) and gemstones (white diamonds, natural aquamarines, iolite and agate, to name a few).
As if that wasn't exciting enough, to continue the gallery's year-long celebration of the art of storytelling, the show sees the unveiling of sculptor Kim Kori's first book, Stories in Bronze. The 156-page coffee-table book showcases images of Kim's bronze wildlife sculptures. Kim will sign copies of the book – available for purchase at the gallery – during Itty, Bitty…and Oh, So Pretty! and on Saturday, Nov. 4, from 1 to 3 p.m. A true labor of love, the book took Kim more than two years to complete.
"I never thought I would publish a book," says Kim. "A very special collector told me that he'd really like me to do a book because I was his favorite sculptor. That touched me profoundly. With he and his wife's support and encouragement, I decided to go for it, knowing that if I didn't do it now, I never would. It was a major undertaking, but I'm happy that I did it. The book just arrived from the printer, and I'm anxious to promote it, and I hope it will be loved."
From indulging in tiny treasures to meeting a new artist to picking up the copy of a book by one of Sedona's most beloved sculptors, Rowe Fine Art Gallery is the place to shop in November!
Rowe Fine Art Gallery represents traditional and contemporary southwestern artists. The gallery, located under the bell tower in Patio de las Campanas at Tlaquepaque Arts & Shopping Village, is open Monday through Thursday, 10 a.m. to 5 p.m., and Friday through Sunday, 10 a.m. to 6 p.m. For more information, call 928-282-8877, visit rowegallery.com, or find us on Facebook and Instagram.