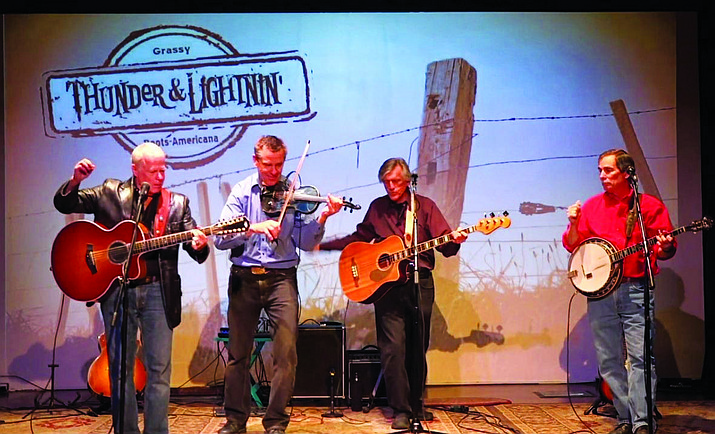 ---
---
The Jerome Chamber of Commerce invites you to join us in Jerome on Saturday, Nov. 4 from 4 to 7 p.m. for our next First Saturday Art & Wine Walk and to help us celebrate the last day of Daylight Savings Time. We know that, while we don't participate in Daylight Savings Time here, this will be the last day this year that California and our other friends on the West Coast operate on the same time as we have here and leave us once again to be an hour ahead of them, as it should be. And the Art & Wine Walk is a great opportunity to explore Jerome and begin your serious holiday shopping with the over 30 unique shops and galleries that will be participating, plus the wide array of museums, restaurants, bars, and wine tasting rooms that will also be taking part in the fun. It's all free and a free shuttle will be provided to make it easy to get around.
Of course, there will be music, with some of our Jerome favorites on hand to help you enjoy the event. Thunder and Lightnin' will be delivering their Americana takes on a wide range of tunes with precise four-part harmonies and tight arrangements, entertaining in the Upper Park above Main Street. Matt Miller will be holding forth at the Jerome Artist's Cooperative Studio, blending acoustic guitar with flute and sax, performing all original material. Him & Me will be at the House of Joy patio, offering up their fun energy and wide variety of tunes and instruments, with solid harmonies. And Muddy Rabbit will be using a blend of their original tunes and their takes on material from the 50s to today, performing for your enjoyment at the Turquoise Spider patio.
And, as you enjoy the event, please realize that Jerome is a town that runs almost entirely on volunteerism. From the Mayor and Town Council to the Jerome Fire Department, the Jerome Historical Society, the Jerome Humane Society, and the Jerome Chamber of Commerce, the life blood of Jerome is the group of volunteers that makes it all work. And Jerome has been perched on the side of Cleopatra Hill for a long time now. The town's modern origins flow from its founding alongside the first mining claims in 1876, which made it an official 'Centennial City,' through its official incorporation in 1899, when it became the then fourth largest community in Arizona. Jerome will be celebrating its 125th anniversary next March, and you should plan to attend the party.