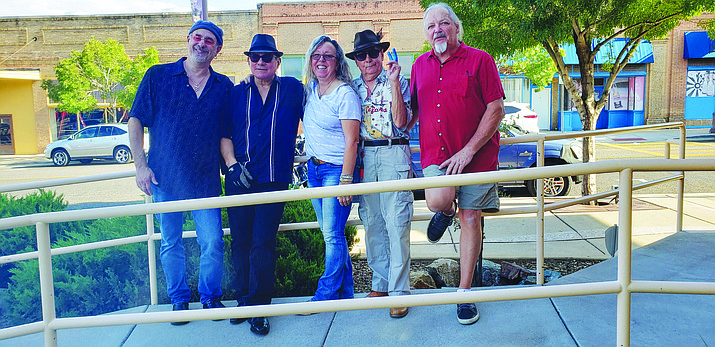 ---
---
10-12 Lounge
910 Main St., Clarkdale
928-639-0800
1012Lounge.com
Thurs 11/2 5pm Mike Wade
Sat 11/4 2pm Menagerie
Sun 11/5 2pm Combo Deluxe
Tues 11/7 5pm Kent Mason
Calavera Mexican restaurant
747 S Main St, Cottonwood
(928) 634-9618
Sun 11/12, 5-8pm - Open Mike. Signups at 4:30. All Skill Levels. Audience Welcome.
D.A. Ranch Estate & Vineyards
1901 Dancing Apache Rd., Cornville
928-247-6868
daranch.com
Instagram @daranch_vineyards
Join us at D.A. Ranch for live music, estate wines, outdoor fun, and more. All ages are welcome and we're pet friendly as well (leash please).
Tasting Room hours are 11am-6pm
Bill Barnes duo - Fri 11/10 1-4pm
Tim Jones - Sat 11/11 1-5pm
Jerry McFarland - Sun 11/12 1-5pm
Mooney's Irish Pub
671 AZ-179, Sedona
(928) 282-2331
mooneysirishpubsedona.com
SAT. 11/11, 6-9PM - Martini And The Pope Will Be Hosting Their Open Mic Music Jam
Vino Di Sedona
Wine & Beer Store/Bar/Kitchen
2575 W SR 89A
West Sedona
928 554-4682
VinoDiSedona.com
Wed 11/1 - Billy Bond, Acoustic Rock - 5pm-8pm
Thurs 11/2 - Open Mic Night Hosted by Dan Rice - 5pm-9pm
Fri 11/3 - Jerry Wayne McFarland, Acoustic Rock - 6pm-9pm
Sat 11/4 - Wine Tasting 3pm-5:30pm; Penumbra, 1960s Rock Style Group, 6pm-9pm
Sun 11/5 - Seenan, Acoustic Rock - 5pm-8pm
Tues 11/7 - Chris Counelis, Saxophone Jazz - 5pm-8pm
MUSICIANS
Alive n Kikin
Fri 11/3, 5-8 pm, Ay, Chihuahua restaurant, 1028 N Main St., Old Town Cottonwood has photo
Christy Fisher

Thurs 11/2 - Cottonwood Village 3-4
Thurs 11/2 - The Arabella Hotel- Sedona 6-8
Fri 11/3 - The Hilton Resort- Sedona 7-9
Sat 11/4 - Tantrum Wines- Cottonwood 5-8
TUES. 11/7 - Page Springs Cellars-Cornville 3-6
Michael Peters
Fri. & Sat. 11/3 & 4, 6-9 pm, Stagecoach Country Roadhouse, 1405 W SR 89A, Sedona