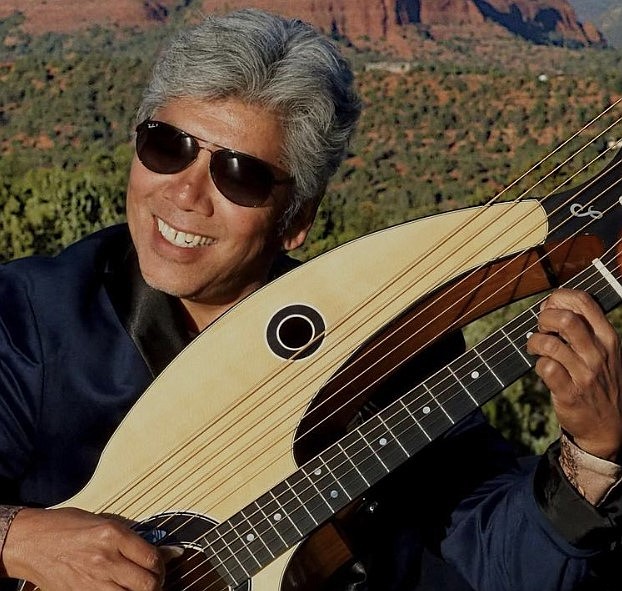 ---
---
Sound Bites Grill in Sedona is revered for bringing some of the hottest musical acts in Northern Arizona to its Celebrity Showroom Stage.
Boasting a top-of-the-line sound and lighting system, this venue captures the New York City supper club ambiance that makes it a perfect place to enjoy a fine meal along with top-notch entertainment.
Starting Wednesday, Nov. 1, from 6 to 9 p.m., the restaurant kicks off its weekly musical menu with Patrick Ki celebrating Wineaux Wednesday, a wine-tasting event, Ki is one of the most prolific musicians in town. A virtuoso performer on ukulele and guitar, he never fails to deliver.
Ki puts on a performance bound to captivate and entertain and often has other local musicians join him. For those that enjoy intricate guitar work and vocal harmonies, Ki and his friends capture the sounds of the Baby Boomer generation perfectly.
Next up, on Thursday, Nov. 2, from 6 to 9 p.m., it's Chill on the Hill with father and son duo Robin and Eric Miller.
Robin and Eric play with the precision only musical family can deliver. Their music spans the generations and captures the spirit of all those who love the classics played with fervor and passion.
Both Eric and Robin have produced and recorded numerous albums and are truly loved by Sedona locals that make it a point to catch them whenever they play.
If you are looking for a place to chill, enjoy great music and a fabulous meal, Sound Bites Grill is the place to be.
On Friday, Nov. 3, from 6 to 9 p.m. it's 3M-Ki bringing the house down, featuring the lovely Susannah Martin on vocals accompanied by Robin Miller, Eric Miller and Patrick Ki.
This is truly a super-group combing their talents to bring new life into every song they play covering all the classics. Astounding harmonies and virtuoso performances by the musicians enthrall audiences and take them on a magical carpet ride through the classics of all time.
Recording and performing artists Miller and Ki round out this trio perfectly, as both musicians are virtuosos on their instruments and talented singers as well.
On Saturday, Nov. 4, from 6 to 9 p.m. Eric Miller puts on his Rock'n'Roll shoes and gets down to party with Eric Miller Band bandmates Eddie Barattini on drums, Chris Counelis on sax and Troy Perkins on bass. This band tocks!
If you like to dance this band fits the bill, playing all your favorite dance tunes from the 60's to today.
Every Sunday Sound Bites Grill features its Jazz & Juice event where patrons get to hear the best jazz Sedona has to offer.
This Sunday, Nov. 5, from 6 to 9 p.m. Sound Bites Grill features jazz master Dave Len Scott, a true master at his craft. Versatile, engaging, talented and inclusive, this musician plays to the audience, especially for those who love jazz.
Sound Bites Grill is located at the Shops at Piñon Point adjacent to the Hyatt in Sedona. For more information please visit SoundBitesGrill.com or call 928-282-2713. Some performances are ticketed. Tickets can be purchased via their website.