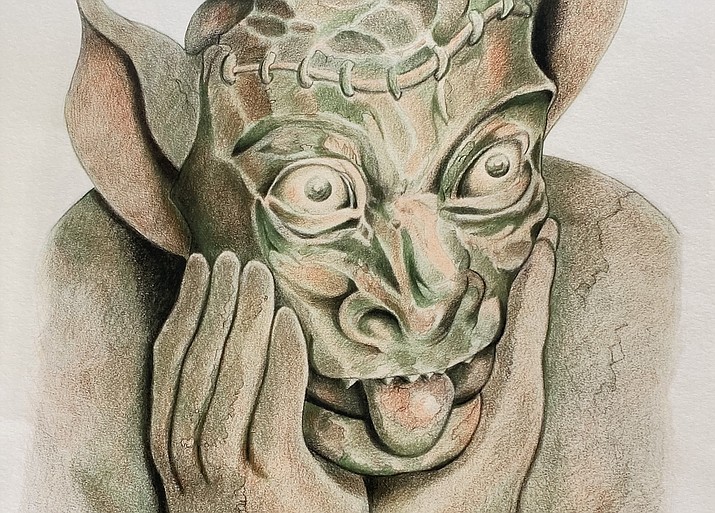 ---
---
In the aftermath of Halloween, most of our local spooks and apparitions will be retreating to their lairs to await Oct. next year. Thanks to the Sedona Renegades Artist Group, however, one coterie of friendly monsters will see their season extended!
Specifically, Carol Hildebrand's exquisite pencil drawings of wondrous, unworldly gargoyles will be in residence during November in the Renegades' gallery at the Sedona Center for Harmony and Enrichment in Hozho Center.
Ms Hildebrand, the group's guest artist for the month, and the Renegades will be on hand at the venue's First Friday reception on Nov. 3 from 5-7:30 p.m., and the public is cordially invited to meet the artists and hear about their latest creations.
In addition, the Renegades are pleased to support Gardens for Humanity as their featured charity during the month. Founded by the late Sedona Artist Adele Seronde, Gardens for Humanity works to strengthen our community through the beauty of art and gardens, encouraging a healthier and more secure local food system. Richard Sidy, President, will be on hand to explain their programs and to oversee a fundraising raffle of artworks, and generous contributions will also be accepted.
Carol Thomas Hildebrand was born and raised in Pennsylvania. She began drawing at an early age and has never stopped. She studied art at Penn State and then Washington State, focusing on oil and watercolors and teaching drawing classes as well. She also studied in Seattle, Santa Fe, and at the Universidad in San Miguel de Allende, Mexico.
And to this day her first love remains drawing with both graphite and colored pencils, resulting in a large body of work in this medium. During several trips to France, Germany, and Italy, she sketched gothic architecture and fell in love with the buildings and their many gargoyles everywhere she went. This inspired her latest series of drawings, bringing to life some of the elegantly detailed gargoyles she met in her travels. She'll be exhibiting a dazzling collection of them, highlighting their charming variety of figures and personalities.
Carol believes that drawing is the first step in the long journey of art; almost any work that she has completed in any medium started with a drawing or series of drawings. She continues to share her gift by teaching drawing to children and adults, as she has for many years.
Sedona Center for Harmony & Enrichment is a welcoming rental space for practitioners, artists, and event creators. In addition to the Renegades art gallery, it hosts sessions, classes, and lectures in a wide range of healing disciplines. For information on renting this space, contact Tatia Fick at 928-554-1951 or visit SedonaCHE.com.
The Sedona Renegades Artist Group is well known for organizing exhibits in Sedona venues and has been in residence at SCHE since last year. Led by Jim Peterson, Carol Gandolfo, and Karen O'Donnell, the group features outstanding guest artists each month plus many fine works by its distinguished member artists.
This exhibit can be viewed in the heart of gallery row on the upper level of Hozho Center, 431 State Route 179, Suite A6. For more information, contact Jim Peterson at 602-828-7407 or Tatia Fick at 928-554-1951.